This Brightening Eye Cream Makes Me Look Wide Awake Every Morning
*Throws concealer in the garbage can*
Welcome to Game Changers, a weekly series in which we reveal the holy-grail beauty products we're loving now—the ones that saved our hair, cleared our skin, and, in some way, changed our lives.
Confession: I'm a bit of a Goldilocks when it comes to using concealers and tinted eye creams to cover up my dark circles. Some of the products I've tried wear off too quickly, don't match my skin tone, or simply don't work. Yep, even the luxury ones. It wasn't until I tried the Supergoop! Bright-Eyed 100% Mineral Eye Cream SPF 40 that I was finally able to minimize my under-eye circles and look like I had gotten a full night's sleep.
You may have already heard a lot about Supergoop! as it's basically the Rolls Royce of sunscreen brands, in my opinion. And yes, just to be crystal clear, this eye cream is a sunscreen product, but it's so much more than that. It uses a blend of probiotics, pomegranate, and caffeine to brighten the area, de-puff, and reduce the appearance of dark circles. Trust me, it works so well that I'm probably going to toss every concealer I own.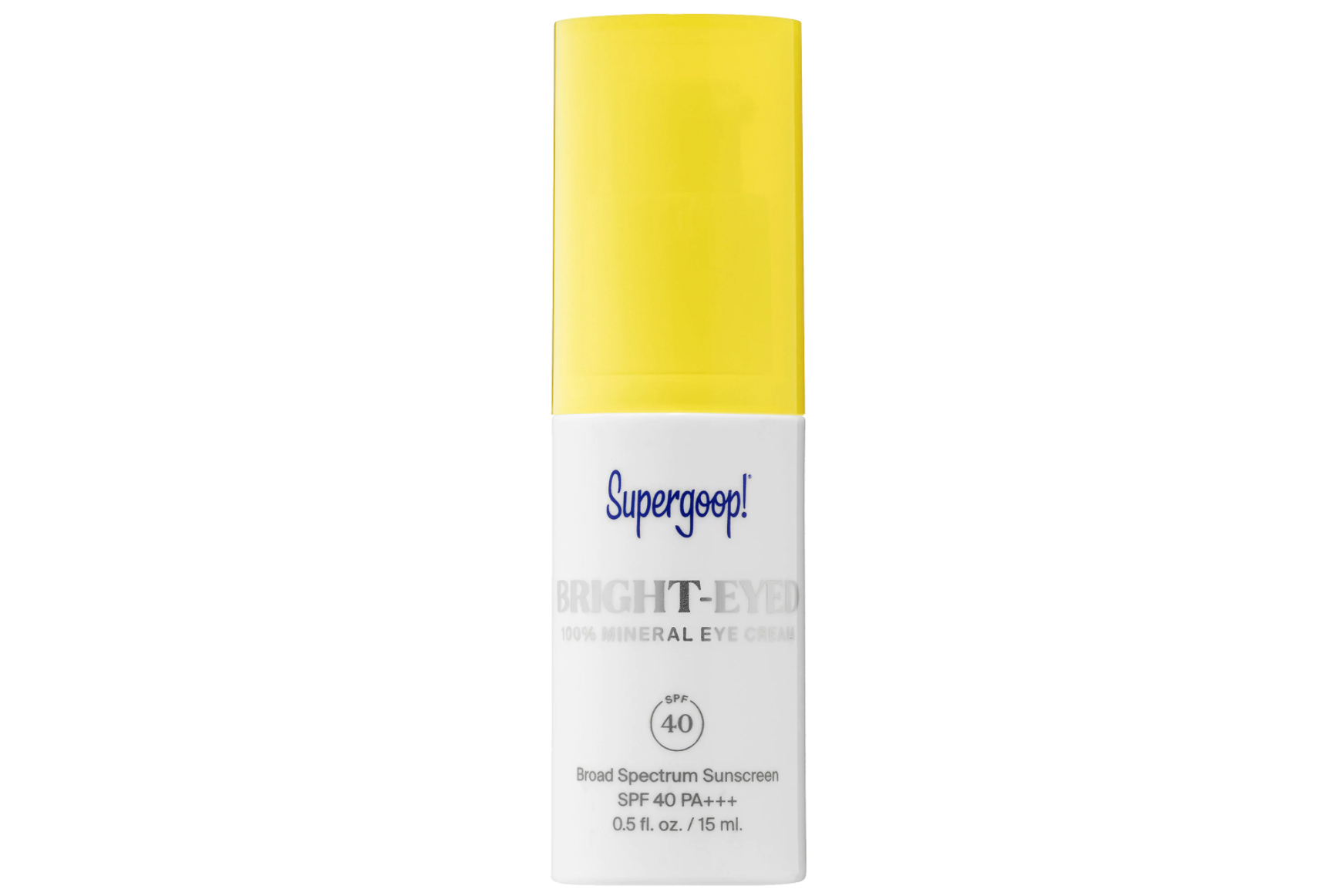 Shop it! $36, nordstrom.com
The Supergoop! Bright-Eyed Mineral Eye cream has a universally-flattering pink tint that, when transferred to my skin, makes me look like I perfectly mixed a highlighter with concealer and placed it on my under-eye area. Even the texture of this product impressed me. The thin, smooth formula comes out of a pump to dispense the perfect amount of product, and once it's on my skin, it doesn't crease, look cakey, or feel heavy.
In my opinion, it's the absolute best morning eye cream out there. Not only does it make me look like I'm wide awake, but it also provides sun protection. You should already be using a full-face sunscreen, but this is a nice extra dose to protect the area where many of us will wrinkle first. Also, remember: Sun protection is one of the most efficient ways to prevent visible signs of aging, so consider this your anti-aging eye cream, too.