Supergirl's Melissa Benoist is telling her story of surviving domestic violence, and we're listening
Trigger warning: This post describes domestic violence.
In a candid Instagram TV video titled "Life Isn't Always What It Seems," Supergirl star Melissa Benoist opened up about her experience as a survivor of domestic violence. Without naming names, Benoist described in detail in the 14-minute video how she entered into a relationship with this partner, how the violence began and ensued, and how she eventually extricated herself. Since then, co-stars, other celebrities, and fans have spoken out with love and support.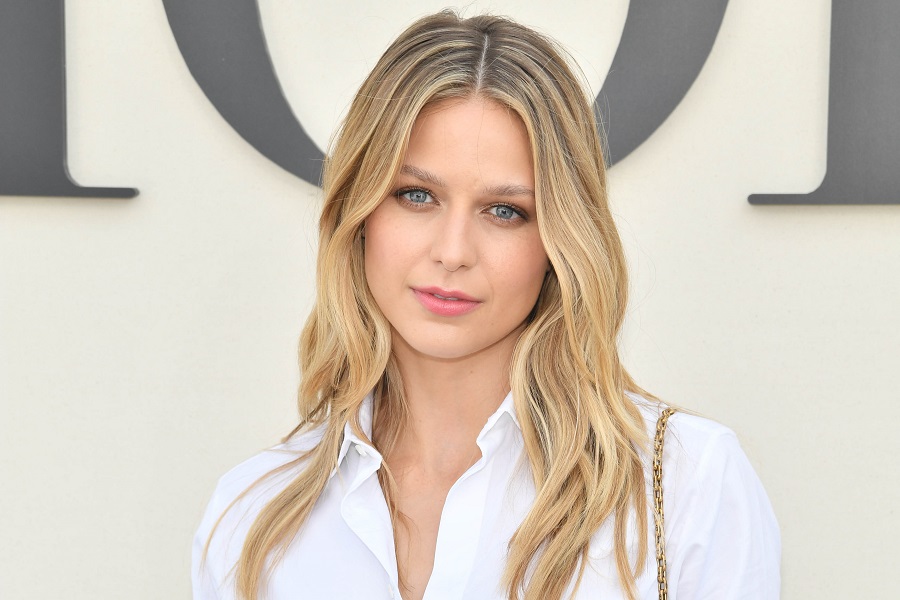 "I am a survivor of domestic violence or IPV, intimate partner violence, which is something I never in my life expected I would say, let alone be broadcasting into the ether," Benoist begins her video, after stating how nervous she is to share.
She says that when she met her partner, he was so magnanimous that he "didn't really give you a choice not to be drawn to him." He was younger and clearly less mature, but he made her feel special in the beginning, she says. Then, the abuse began, though she didn't recognize it as abuse until later.
"It's still hard for me to dissect what I was thinking and feeling that kept me from stopping what felt like a runaway freight train," she says, though she realizes that her "sheer terror" of a "failed" relationship in the wake of her parents' divorce could have contributed to her feelings.
Benoist describes a pattern of jealousy, including snooping into her phone, managing what she wore so she didn't attract attention and restricting her from having on-screen flirtations with men. As an actress, she started turning down auditions to meet his needs.
"None of that registered as abuse because I was too worried about how he felt at that point to even comprehend how it affected me," Benoist says in her video.
"In retrospect, I see that every red flag followed a very clear path on the way to things becoming violent because violence is often preceded by mental, emotional, verbal, and psychological abuse."
The physical violence started five months into their relationship, and it quickly escalated. The first time it happened, she says, he threw a smoothie in her face. In that instance, she says she was more worried about the furniture than the fact that she had just been abused, in an effort to "minimize."
"The stark truth is I learned what it felt like to be pinned down and slapped repeatedly, punched so hard I felt the wind go out of me, dragged by my hair across pavement, head-butted, pinched until my skin broke, shoved against the wall so hard the drywall broke, choked," Benoist says.
Afterward, as is often a pattern with abuse, her partner would cry and apologize. "Insert typical abuser's apology here," she says. At that time, Benoist says she still believed she could help him change. She describes a time of retreating from friends, family, and coworkers to avoid them noticing the abuse and also to protect him.
Several months later, Benoist recalls one abuse incident that registered for her as "too far." Her partner hit her in her face with an iPhone, and her eyesight will never fully heal. The visible injury meant she had to tell a fake story to her crew on Supergirl to explain—the same cover story she eventually told police from her hospital bed.
Thankfully, as Benoist started trying to extricate herself from her abusive relationship, she found support from her close friends, whom she finally felt able to confide in.
She says that in the period during and after she left the relationship, her feelings were complicated with relief and mourning and guilt, among other things.
"None of this is salacious news. This is my reality," she says.
"I choose to love, Benoist says near the end of her video. "I don't choose to minimize my life out of fear. I choose to love myself, to know that love does not include violence, and to let victims know that there is a way out in which you will be protected."
After sharing her Instagram TV video, Benoist shared resources for others who are survivors of intimate partner violence.
Since then, many people have expressed gratitude for Benoist sharing her personal story.
https://www.instagram.com/p/B5Yd7CDg5ex
We appreciate Melissa Benoist speaking her truth about domestic violence and using her platform to hopefully help others survive a similar situation. Supergirl, indeed.
If you are a survivor of domestic violence and need help, contact the National Domestic Violence Hotline at 1-800-799-SAFE (7233). You are not alone.