You can now get a free burger from Shake Shack by doing this one thing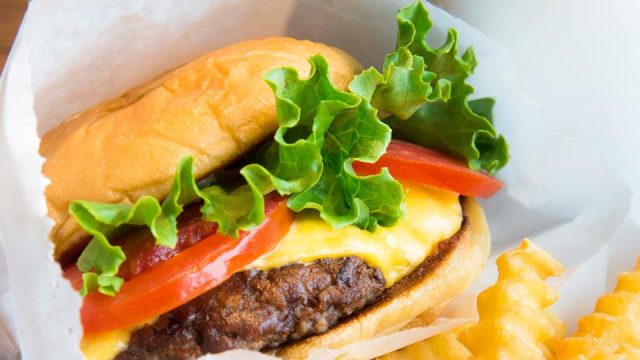 If a free burger from Shake Shack sounds too good to be true, we're here to tell you — it's not. As a way to promote their new ordering app, Shake Shack is offering one free burger to anyone who downloads the Shake App. Considering the amount of apps you probably have on your phone that you never use, downloading the app and creating an account for a free burger sounds totally worth it to us.
According to Shake Shack:
"The app was developed to elevate the in-Shack guest experience, resulting in shorter pick up times and convenient mobile ordering.
To encourage customers to use this new app, the burger fast food company is offering a free burger to early adopters until Tuesday, February 28th, 2017.
So, you've got a month to get your free burger on!
If you've ever waited in line at Shake Shack, you know this app could be a game changer. And for people who hate creating online accounts, the free burger is a very delicious incentive.
If you are interested in getting your free Shake Shack burger (uh, why wouldn't you be?!), here are some additional details about the deal:
"One-time use only. No minimum purchase necessary. Void where prohibited by law. Open to legal residents who are 13+, download the Shake Shack app, and create an account. Using the promo code 'shackapp' during checkout will deduct the value of one single ShackBurger (up to $5.55 for any valid items, including only those listed in the burger, hot dog, and breakfast categories of the app) from the subtotal of an app order."
The only MAJOR downside is that the app is just available to people with iOS devices. That's right, Android users —  you're SOL.
Let's just hope Shake Shack offers another deal like this when an Android app is released so that there isn't a burger battle between iPhone users and Samsung Galaxy users.
But if you have an iPhone and a Shake Shack in your area, make sure to download the Shake App and use the code "shakeappy" to get your free burger by February 28th. And while we know there is no minimum purchase necessary, we're sure your burger will be accompanied by some crinkle-cut fries and a shake — just as it should be.