There will be a super blue moon eclipse in January, and this is how it will affect your relationship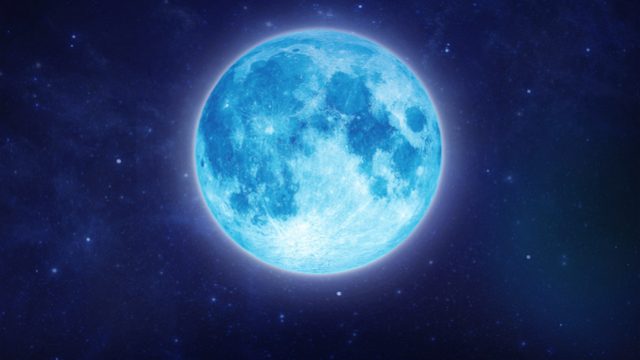 Breathe easy, beloved. We've made it through a new year and a new month. As we enter a new cycle, we experience shifts in both our inner and outer worlds. The stars reassuringly reflect this. We started the month with a full supermoon, and we're ending it with another full supermoon. January 31st's supermoon isn't only a blue moon (since it's the second full moon of the month), it's also a lunar eclipse in the sign of Leo.
This super blue moon eclipse is significant if you're in a relationship because it's in fire sign of the lion, shining on your truth, your needs, and what it is you need in a partnership to show up as your fullest self.
Since this full moon is a supermoon — which means it shows up brighter and closer than a normal full moon — you can expect illumination in the realms of love, trust, and bonding. This, combined with the energy of a lunar eclipse, means you're in the perfect spot to deeply examine what it is you can bring to a relationship, especially in the next six to 12 months, and how you can show up with this love for yourself as well.
To get you even deeper into the realm of love, we talked to astrologer extraordinare and horoscope queen for Coveteur, Amelia Quint, who breaks down the energy of this super blue moon eclipse. She tells us,
"This moon is important because it's also a lunar eclipse, which makes it even more potent. Lunar eclipses happen only a few times a year, and their effects ripple outward for the next 6 to 12 months. Since this is a Leo lunar eclipse, the emphasis will be on what you need out of relationships and making sure those needs are met. If you aren't happy with your current relationship status, this moon can be a seed that grows into you feeling much more confident and loved."
Take some time on the 31st (or the day before or after) to sit quietly and think about what makes you feel powerful, supported, and loved. Themes of passion, fire, strength, nourishment, power, and support are all highlighted right now — especially those relating to your own needs. You can journal about this, lighting a red chime candle and speaking what you want into creation as you meditate on its flame. Let this burn down on the full supermoon to help manifest your goals. Then talk to your partner about what they need and see if you can go into the year as each other's loudest cheerleaders and support systems. Check back in with each other on the next new moon to make sure you're still on the same page.
You can even practice this exercise with friends and loved ones who you want to deepen a relationship with. And if you're single, you can still on focus on your own needs and wants and what your hopes are for the next year through this exercise. This second full moon of the year is like the emotional fuel you need to set yourself up for the rest of the year, and for the most nourishing and fulfilling relationship possible. Don't forget to #treatyoself while you're at it.