The 21 Best Sunscreens, Including Picks from the EWG and Skin Cancer Foundation
They'll keep your face and body safe all summer.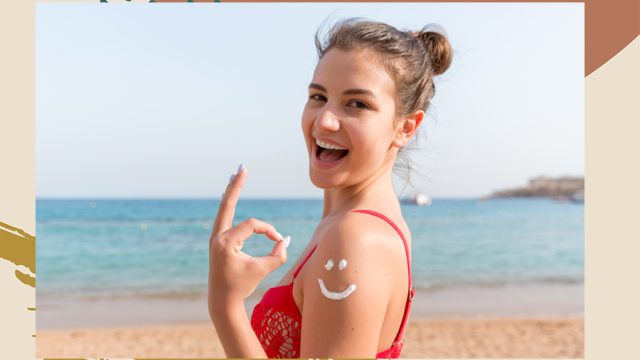 Finding the best beauty products has never been easier thanks to Pia's Picks, our weekly curated list. As the Senior Beauty Editor at HelloGiggles, I test and examine the latest skincare, makeup, hair, and nail products so I can confidently recommend the best ones to you.
Using sunscreen every day is important to help prevent skin cancer, and yes, we mean every single day. Before we get further into it, let's talk about the two types of ultraviolet (UV) light: UVB and UVA. UVB rays are what cause sunburns and are the main source of skin cancer, whereas UVA light penetrates deeper layers of the skin and accelerates photoaging (think blue light from your laptop and phone screens).
Now, let's talk about two types of sunscreen: chemical and mineral. Chemical sunscreens go into the top layers of the skin and absorb UV rays; once they've absorbed those rays, they create a chemical reaction that turns the rays into heat that is then released from the skin. Mineral sunscreens, meanwhile, absorb into the surface layers of the skin and reflect UV rays off of it. In recent years, mineral sunscreens have become increasingly popular, as ingredients commonly found in chemical sunscreens, like oxybenzone, have been said by some scientists to be hormone disruptors (the FDA is currently reviewing its sunscreen regulations but hasn't determined anything as of yet). And while we know that "reef-safe" sunscreen claims are B.S., we understand that some people may sway one way or the other, which is why we're providing you with all the options so you can make an informed decision.
Now, while most of us know that we should wear sunscreen every day, most people decide not to. A new study found that 40% of Americans say they rarely or never wear sunscreen, and more than 70% only wear it in the summer. Even more alarming, 77% said they only reserve sunscreen for certain activities on summer days. According to the Center for Disease Control and Prevention (CDC), skin cancer is the most common form of cancer in America, so in the same way that many of us make a conscious decision to stay away from smoking, we should also make an effort to apply sunscreen every day—even if we're indoors.
Sunscreens are obviously important, which is why we tested over 100 different formulas for the 2021 Beauty Crush Awards. We ranked them on how easy they were to apply, how well they absorbed into the skin, how they looked on different skin tones (no chalky residues, thank you), and, of course, how effective they were. Plus, we looked to the Environmental Working Group (EWG) and the Skin Cancer Foundation to see which products they're recommending, too. Here, we've listed the best sunscreens for your face and body.
Best sunscreens for your face:
1. Best drugstore mineral sunscreen:
You don't need a ton of money to get high-quality sun protection. This sunscreen is free of parabens, silicones, sulfates, and fragrance, which is great news as all of those ingredients can irritate sensitive skin and make it break out. The UVA/UVB protection shields the skin from the sun's harmful rays and from the blue light from screens. Plus, while many mineral sunscreens leave an ashy film on your skin, no worries. If you have melanated skin, know that this sunscreen was created with Tamerri Ater, a Black woman and Versed's product development director, who helped formulate a sunscreen that is wearable for all skin tones. Plus, the formula has a peachy tone that's almost color-correcting, too. We love it so much, we wrote up an entire review of it.
2. Best luxe mineral sunscreen:
This sunscreen is endorsed by the Skin Cancer Foundation and is perfect for all skin types, even for those with rosacea and eczema thanks to its skin-soothing and hydrating ingredients, such as vitamin E. It features nine percent transparent zinc oxide for its SPF 46, and it also has a ton of skincare ingredients like niacinamide, hyaluronic acid, and lactic acid. Say hello to healthy skin. It's so good that celebs such as Kourtney Kardashian, Mindy Kaling, and Drew Barrymore love it.
3. Best drugstore chemical sunscreen:
This oil-free, non-comedogenic (meaning it won't clog your pores), and super soothing sunscreen has us charmed. Its star ingredient is colloidal oatmeal, which hydrates, protects, and soothes both sensitive and irritated skin. It's so gentle that it can even be used by people with eczema or super dry, cracked skin. If that weren't enough, it also uses hydrating glycerin and wound-healing hydrolyzed oat protein.
4. Best luxe chemical sunscreen:
This SPF does it all: It's anti-aging, glow-boosting, and, of course, protects the skin from the sun. The formula boasts brightening vitamin C, collagen-boosting peptides, and the brand's patented volcanic water which helps tackle dark spots and uneven skin tone. As if that weren't enough, it also blends in completely transparent and is non-comedogenic.
5. Best drugstore sunscreen powder:
For touch-ups on the go, this talc-free powder is a winner. The fine, mineral formula feels lightweight and as it's translucent, it won't mess up your face makeup.
6. Best luxe sunscreen powder:
Dermatologists recommend reapplying your sunscreen every two hours, but, realistically, not too many of us are down for applying lotion over our makeup throughout the day. That's why this powder formula is so great: It comes in what looks like a makeup brush, and all you have to do is swipe it across your face to achieve your recommended SPF dose. Plus, we love that this one comes in four universal shades and gets rid of excess shine.
7. Best drugstore sunscreen mist:
We can thank TikTok for this budget-friendly find. TikTokers can't stop raving about how great this sunscreen is for all day application and wear—yes, even over makeup. All you need is two spritzes to get all the sunscreen you need. Also, since it's formulated with Neutrogena's signature Helioplex technology (avobenzone and oxybenzone), it's lightweight, non-greasy, dries quickly, won't clog your pores, and doesn't leave that typical dull, white cast on your face as many sunscreens do. Instead, your face is left with a radiant, healthy-looking glow, and since the formula is water-resistant, you don't need to worry about sweating it off.
8. Best luxe sunscreen mist:
Instantly transport yourself to the beach with this SPF mist that smells like a vacation in a bottle. The mineral sunscreen spritzes out in a fine mist and deposits a transparent layer of SPF onto the skin without messing up makeup. And yes, while we know that we only have to reapply it every two hours, the Coola Refreshing Water Mist Sunscreen is infused with soothing aloe vera and cooling coconut water, so we find ourselves re-applying it way more often because it feels so good.
9. Best drugstore sunscreen stick:
Perfect for the person on the go, this SPF stick will fit in your pocket and provide you with all the sun protection you need. Apart from having an SPF 30, the formula has soothing vitamin E, is non-comedogenic, and is water-resistant for up to 80 minutes.
10. Best luxe sunscreen stick:
Leave it to Supergoop! to create the best, glow-boosting sunscreen stick on the market. This SPF has a dry oil formula that allows for super smooth application that glides of the skin, absorbs quickly, and makes your skin look healthy and radiant.
11. Best sunscreen for oily skin:
Say goodbye to excess sweat and oil with this award-winning mattifying sunscreen. It works well with every skin type, but it's especially beneficial for acne-prone people as the formula is non-comedogenic and absorbs excess oil. Testers loved how smooth it felt and how quickly it absorbed into the skin, and we also like that the formula is recommended by the Skin Cancer Foundation.
12. Best sunscreen for dry skin:
According to the EWG, this is one of the best sunscreens you can get. Over 10,400 people have left this sunscreen-moisturizer hybrid a five-star rating on Amazon, and customers call it a "miracle" moisturizer, saying that it keeps their skin supple and repairs and diminishes various skin concerns like uneven texture and color, rosacea flare-ups, wrinkles, pore size, dry patches, and more.
13. Best sunscreen primer:
Replace your regular primer with this makeup-gripping sunscreen that offers sun protection and gives your skin the glowy base for your cosmetics. You can use it below your foundation or BB cream for a subtle, radiant shine or you can use it on its own and still benefit from the shimmer-free glow it provides. Apart from making your skin look super healthy, this mineral sunscreen is also packed with ingredients such as hydrating hyaluronic acid and glow-boosting niacinamide.
14. Best Black-owned sunscreen:
Created by women of color for women of color, this SPF is a dream come true for melanated skin. Its formula is packed with natural ingredients like nourishing avocado, moisturizing cocoa, and anti-aging carrot juice. Its mattifying formula is perfect worn on its own or under makeup, and since it's vegan and cruelty-free, you'll feel good about using it, too. 
Best sunscreens for your body:
15. Best drugstore mineral sunscreen:
Sun protection is vital, no matter your skin tone, but icky thick formulas can often turn people off from using an SPF. That's where Banana Boat's sunscreen comes in. As its name says, the water-resistant formula is light as air and will keep us protected, rain or shine. This product is recommended by the Skin Cancer Foundation and we love how quickly it absorbs into the skin.
16. Best luxe mineral sunscreen:
We always look up to our parents for life advice, and with that, we sometimes get product tips, too. Recently, a contributor shared that her Korean mother swears by this sunscreen and that it's been the key to keeping her skin healthy in her 60s. This formula is lightweight and uses Shiseido's patented HeatForce and WetForce technologies that create stronger, protective barriers when exposed to heat and moisture.
17. Best drugstore chemical sunscreen:
This budget-friendly pick is perfect for those who struggle with bacne, as this formula is oil-free and is non-comedogenic. It offers UVA and UVB protection and uses Neutrogena's patented Helioplex technology to protect the skin from the sun for hours on end. (You should still reapply every two hours, though.)
18. Best luxe chemical sunscreen:
Protect your body from the sun's harmful rays with this lightweight, yet rich-feeling lotion. The formula is oil-free, fragrance-free, is packed with antioxidants to protect skin from environmental aggressors, and Nordstrom reviewers love that it's soothing, glides on easily, and works well with very sensitive skin types.
19. Best drugstore sunscreen spray:
Spray formulas are great for active people who need to reapply sunscreen on a whim, and this formula is both sweat- and water-resistant for up to 80 minutes. Just note that you shouldn't use sprays around people with lung illnesses or asthma as they could accidentally inhale some product and experience respiratory problems.
20. Best luxe sunscreen spray:
The lively spirit of Brazil is encapsulated in this fun, oil-based SPF. The easy-to-spread formula contains SPF 30 and skin-friendly ingredients like açai oil (a powerful Brazilian antioxidant) and moisturizing coconut oil. Also, if you look closely at the bottle, you'll see a tiny surfboard riding the waves of your SPF—super cute.
21. Best sunscreen for dry skin:
This EWG pick is the two-in-one moisturizer-SPF hybrid your dry skin needs to stay healthy all summer. It provides both UVA and UVB protection, is fragrance-free, and has a non-greasy formula that's quickly absorbed into the skin.