PSA: The Sun is entering Leo this weekend, so pleasure is on the horizon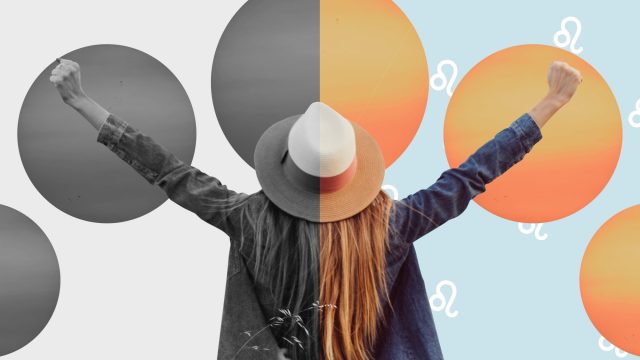 On July 22nd the Sun leaves sensitive homebody Cancer and enters playful and outgoing Leo. The Lioness is the bawdiest of the zodiac bunch—Kate Winslet, Viola Davis, and J.Lo are excellent examples of the glam and tenacious fire sign. Though Leo season is a welcome jolt of fun—especially during this current global climate—it's not all fun and games. There's a lot to learn during this time (yes, including how to have fun). Here's what you need to know about this bodacious sign and what to expect during its four-week transit.
Ruled by the bold yet attention-seeking Sun, Leo is an intensely individualistic sign, meaning they aren't ones to play with the team nor do they like to stand in the background. Most Leos want to be front and center and admired for what they have to offer the world.
During this time we are called to channel the audacious spirit of the Lioness: this is your time to slay and express yourself in new and creative ways. Don't be afraid to stand in the spotlight and communicate your innermost desires. Heed the call of the lion and speak your truth. This is prime time for taking risks for both your professional life and for, well, just the pleasure of it.
Because that's the other important quality of a Leo—they have the most infectious joie de vivre. Leos love to indulge themselves, whether it's shopping for that perfect wow-factor dress or spending a day at the spa or salon. If you've been neglecting your wardrobe or brows, now is the perfect time to treat yo' self. Buy something totally glam (leopard print, perhaps?) and go on with your bad self. Don't overestimate the power of "owning it" because confidence is contagious, not to mention super alluring. And Leos love to be loved.
Speaking of love, Leos may be more in love with the idea of love than the feeling itself. They are big into romantic gestures and sweeping, epic romances rather than the mundane practicalities of relationships. If you're crushing on someone, let them know. Go full out with a summer fling—but know that it might not (and probably won't) last forever. Attached? Plan a luxe romantic dinner with your loved one. Think candles, rose petals, and super sexy lingerie, if that's your thing.
Stop to think before you spill any tea during this time. The drama potential is huge during Leo season, so anything could be blown way out of proportion, mostly because people tend to be more childish and difficult than normal. Keep to your word and stay strong in your integrity to avoid getting sucked into anyone's games.
Overall, Leo season is a beautiful time to shine and go big. From gestures to self-expression to love, this is an exciting time to live life large. However, Mercury Retrograde sneaks in on July 26th, so enjoy this bold life while it lasts because Mercury will throw a monkey wrench into these #goodvibes.
In the meantime, bbs, embrace the regal Lioness with her "I am Woman, hear me roar" attitude and, above all, have fun.