There's a handy new way to organize and travel with your nail polish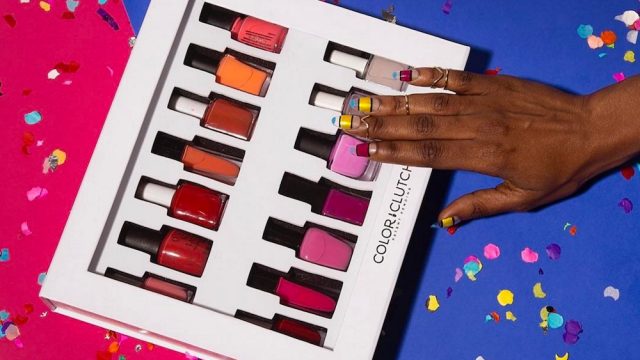 If you've ever struggled with how to pack or display your nail polish, Color Clutch is here to save the day!
Say you're the type who wants to bring your nail polish with you on vacation. Having a girl's weekend on the beach, or glamping in a cabin in the woods? There won't be nail salons there, and you know you need more than just a couple of shades for you and the squad.
Enter Color Clutch. It's a slender, portable way to travel with your precious tiny bottles. "Clutch" brings to mind the strapless, special-occasion purse that fits literally one lipstick and a credit card. Maybe your phone. However, Color Clutch fits 14 bottles of lacquer into just two inches of space.
Fans of tidy beauty storage (who might be minimalists) can store or display their entire polish collection at home.
Color Clutch tucks neatly away or looks super cute on display.
Color Clutch was created by Katharine Contag, who wanted a better way to organize and travel with her polish. The brand has collaborated with major players in the nail game, like Zoya and Essie. Color Clutch is available online, and at organization destinations like The Container Store.
Pro manicurists and nail artists can slip a few Clutches into their kits for an easy way to show editorial stylists and clients shade choices at a glance. If you're on a set at a fashion shoot, swatching nails on models in close proximity to pricey designer pieces is risky business — this is a great way to avoid any disasters.
Pure, unadulterated nail joy.
Grab a Color Clutch at www.ColorClutch.com or The Container Store for $19.99.