Summer nail polish colors that'll make your poolside outfits pop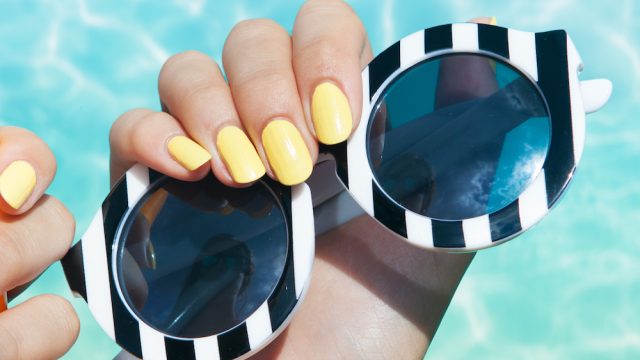 For many people, summer may be the season to lighten and brighten your wardrobe, but if you're not down to ditch your all-black, monochromatic uniform, may we suggest a more subtle way to add pops of color to your look? Enter: bright, sunny nail polish. Whether you're down to experiment with nail art via complex designs, or you're a fan of one solid block of color, this is the time to step out of your comfort zone when it comes to your tips.
From neon shades of yellow, orange, and green, to seawater-hued tones, and hot pinks for days, we've rounded up 15 summer nail polish shades that will let you stand out, in the quickest, easiest way ever. And if you're not feeling a certain shade? Just take it off and try again, of course.
Shop our summer nail polish picks.
1 Chanel Le Vernis Longwear Nail Color in "Jaspe"
A classic coral shade is a must.
2 CND Shellac Nail Polish in "Blue Eyeshadow"
Dare we suggest you pair this shade with actual blue eyeshadow?
3 Deborah Lippmann Nail Polish in "On The Beach"
This ocean blue shade makes us feel beachy.
4 Essie Nail Polish in "Mojito Madness"
Green nail polish can be pretty polarizing, but we're super into this pretty jade hue.
5 Floss Gloss Nail Lacquer in "Wet"
Notice a trend?
6 Lauren B. Beauty Nail Polish in "Summer in Provence"
The cool tones of this lavender shade offer a more subtle option for summer.
7 Christian Louboutin Nail Polish in "Mula Lisa"
We bet you'll be the only person at the beach rocking this chartreuse color.
8 Marc Jacobs Beauty Enamored Hi-Shine Nail Polish in "Snap!"
This tangerine shade is so striking.
9 Nails Inc. Nail Polish in "Old Park Lane"
You can't go wrong with a warm pink nail color.
10 Nars Nail Polish in "L'Avventura"
Gorgeous, non?
11 OPI Nail Polish in "Sun, Sea, and Sand in My Pants"
From the shade name to the color, this is in-your-face summer.
12 Orly Nail Lacquer in "What's The Big Teal"
Bold hue? Check. Cute name? Check. Cool texture? Check, check, check.
13 Sally Hansen Miracle Gel Nail Color in "Pink Up"
We mean, obvs.
14 Gabriel Cosmetics Nail Polish in "Cactus"
Because jewel tones are chic, all year round.
15 Nanococo Nail Lacquer in "Warmest Wishes"
So soft and beautiful.