15 of the best movies you need to see during Summer 2018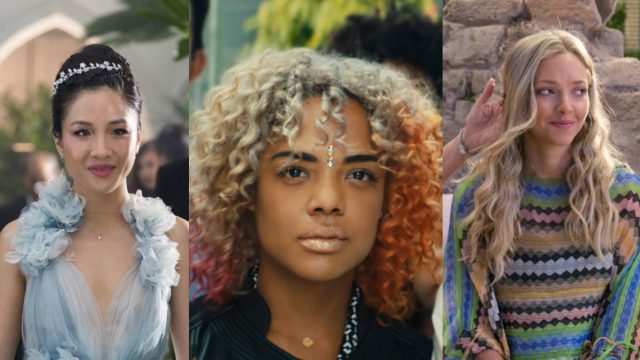 The sun is out, the skies are clear, summer is finally here — and so are blockbusters. While this season calls for an infinite number of nap times and trips to the beach, the theaters are also brimming with rom-coms, horror flicks, and indie spectacles that are all waiting for you.
And now that it's *officially* summer, it's time to start planning out your trips to the movie theater. Here are the movies you definitely shouldn't miss this summer, in order of release:
Jurassic World: Fallen Kingdom, June 22
Or, as we like to call it, the Return of Jeff Goldblum as Ian Malcolm. Sir Goldblum, along with Chris Pratt and Bryce Dallas Howard, reprise their roles and return to the island to save the dinosaurs from an imminent volcanic eruption. The humans attempt to bring the dinos to modern civilization. Chaos ensues.
The First Purge, July 4th
The prequel to the wildly popular The Purge franchise, this film turns back the clock and takes us to the first-ever national day of anarchy and mass genocide.
Sorry to Bother You, July 6th
Written and directed by Boots Riley, this trippy movie, set in an alternate-world Atlanta, follows a telemarketer trying to make some sense of his life while rising in the ranks at work.
Ant-Man and the Wasp, July 6th 
Paul Rudd and Evangeline Lilly play the title roles and kick ass as miniscule superheroes.
Hotel Transylvania 3: Summer Vacation, July 13th
In this third installment of the hit animated series, Dracula takes his family and the rest of the hotel residents on a luxury cruise, where he falls in love with the ship's captain, Ericka, who also happens to harbor a secret that could destroy monsterkind.
Eighth Grade, July 13th
YouTube personality and comedian Bo Burnham makes his feature writing and directorial debut with this coming-of-age story about a hormonal teen named Kayla, who's determined to make the most out of her last week in middle school.
Mamma Mia! Here We Go Again, July 20th
Amanda Seyfried, Meryl Streep, Pierce Brosnan, Stellan Skarsgård, Christine Baranski, Dominic Cooper, Lily James, and Cher (!!!) star in this sequel to the 2008 comedy. In it, we'll join Sophie during her pregnancy journey and find out how Donna ended up in Kalokairi in her younger years.
Mission: Impossible – Fallout, July 27th
Ah, yes. This is the film in which A 55-year-old Tom Cruise flies helicopters, crashes motorcycles, falls off mountains, jumps from building to building, and engages in combat. Tom, teach us your ways.
Hot Summer Nights, July 27th
Everyone's favorite internet boyfriend Timothée Chalamet returns to the big screen and stars in this coming-of-age drama set in yet another idyllic place. This time around, he visits Cape Cod for the summer, parties a lot, starts dealing pot, and what do you know, falls in love.
The Darkest Minds, August 3rd
Based on Alexandra Bracken's young adult novel, this sci-fi fantasy chronicles the story of a band of teens with special powers trying to escape a tyrannical government that imprisoned them.
Christopher Robin, August 3rd
An adult Christopher Robin reunites with his childhood pal Winnie the Pooh. The two return to Hundred Acre Wood to find Christopher's lost sense of imagination. We're already crying.
The Spy Who Dumped Me, August 3rd
Mila Kunis and Kate McKinnon play BFFs who somehow end up getting caught in the middle of an international conspiracy after finding out one of their exes (played by Jennifer Aniston's irl ex Justin Theroux) is a spy.
 BlacKkKlansman, August 10th
Spike Lee brings to theaters the story of Ron Stallworth, an African American cop who infiltrated and exposed the Ku Klux Klan in Colorado in the early '70s.
Crazy Rich Asians, August 17th
Based on Kevin Kwan's best-selling novel of the same name, this film stars Constance Wu as Rachel Chu, who joins her fiancé Nick Young (Henry Golding) on a trip to Singapore where she discovers that he comes from an insanely wealthy family.
The Happytime Murders, August 17th
Melissa McCarthy, Maya Rudolph, Joel McHale, and Elizabeth Banks star in this dark comedy about two detectives — a human and a puppet — who must work together to solve the gruesome murder of the cast of a children's puppet show.