12 summer date ideas that will work no matter where you live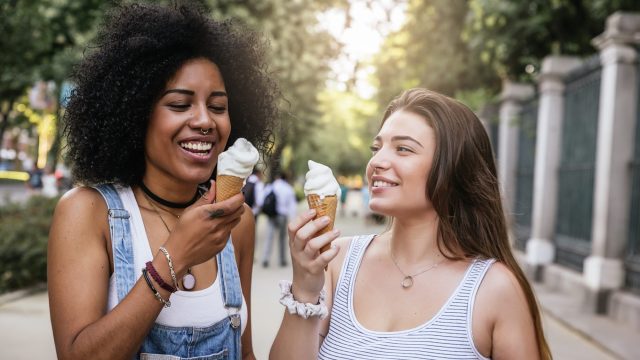 Summer is the perfect season for romance. With longer days and hotter nights, it's only natural for you to want to heat things up with bae (or bae for the night). Instead of the standard dinner and a movie routine, though, why not make the most of the warmer temperatures with one of these memorable summer date ideas that can take place anywhere?
You don't have to go to an exotic location or tropical island to have the best summer ever. In fact, this list proves you two can fall in love all over again no matter what zip code you're in. From kickstarting the day with an Instagram-worthy romantic breakfast to bonding at a sporting event, give these easy-to-plan activities a try and see how big of a difference they make in your relationship.
1. Plan a picnic.
The key to doing this right is staying organized and packing finger foods that are easy to eat. In short, don't worry about cooking up a fancy meal because the beauty of eating outside is how easy it is.
2. Catch some outdoor music.
Whether it's an all-out music festival or a small, live concert in the park, go ahead and enjoy the sun alongside some tunes. It'll get cold pretty soon, so do this while you can.
3. Play tourist.
We bet there are hidden gems in your city that you haven't visited yet, even as a local. Take the weekend and change that by heading to those historical sites or checking out a new art exhibit.
4. Go to a game.
Nothing brings people together like sports…even if you're rooting for different teams. Tap into the one-of-a-kind camaraderie of a sporting event and boost the fun (and friendly competition!) in your relationship.
5. Book a couple's massage.
Reset and splurge on a session. Summer is all about relaxing, and this is a fool-proof way to make sure that happens.
6. Leave work early and watch the sunset.
If your office doesn't do summer Fridays, consider shortening your lunch break to be able to be be by your special someone during the most beautiful time of the day.
7. Try or make a dish you've never eaten before.
Be adventurous by grabbing ingredients for a foreign dish and working together to make the recipe, or at least making a reservation at a restaurant you've never tried before.
8. Make an elaborate breakfast.
Jump-start the day in the most incredible way with an over-the-top meal for two, and brace yourself for butterflies along the way.
9. Take a hike.
Experiencing nature as one brings a new perspective and can take your relationship to an eye-opening new level.
10. Buy some huge ice cream cones and get all the toppings.
Having fun is the only goal here. Feel free to DIY the moment, too, by picking up some sprinkles, fudge, or whatever else you like.
11. Spread out a blanket and stargaze.
Go a step further and have a star named after your relationship. It may be cheesy, but there's a reason why it's a go-to scene in the movies.
12. See the sunrise.
There's something extra special about starting the day together as a couple. Plus, getting up on the earlier side has been known to reduce stress and it also leaves you with extra time to work out (or just eat an amazing breakfast).