There's a summer camp devoted to bacon, and take us there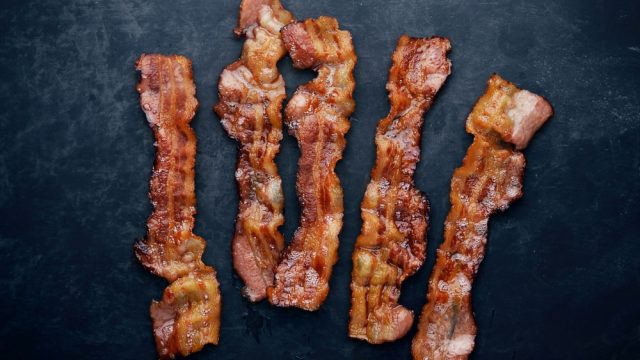 Imagine, if you will, you're in the backseat of your mother's car, about to be dropped off at summer camp. You pass a sign that reads, "Welcome to Camp Bacon!" and you get a whiff of that heavenly savory scent. This isn't a dream — this is real. Camp Bacon exists, people!
Meet Zingerman's Camp Bacon, a bacon lover's paradise. Held annually in Ann Arbor, Michigan, the five-day event attracts roughly 3,000 people each year. According to Delish, campers spend those five days cooking, baking, eating, watching films about, and partying with bacon.
When one attends Zingerman's Camp Bacon, they're not just leaving with full stomachs and dehydration from the vast amount of salt consumed. Camp-goers also leave with the knowledge of how their favorite breakfast meat came to be and, we imagine, a greater love for bacon in general.
Guest speakers talk about how to properly cure pork and what they feed their animals to make sure consumers are getting the best bacon for their buck.
Campers were also invited to attend The 9th Annual Bacon Ball where a huge bacon-themed dinner is served and awards for best dishes are given to competing chefs and bacon connoisseurs.
And during the Camp Bacon Street Fair, vendors sell their pork wares while also providing campers with plenty of samples to keep hunger at bay.
Camp Bacon wrapped up on June 4th this year, but the team is already planning events for next year, so mark your calendars.
A wise woman once said, "Ooh, heaven is a place on earth." Now we know she must have been talking about Camp Bacon.