11 ways to stay on budget during the summer, because after-work summer drinks can get $$$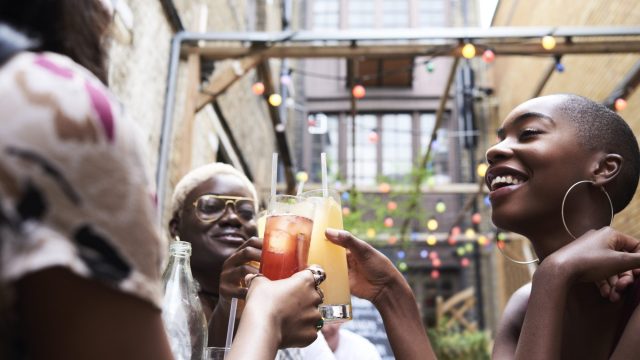 It seems like we've been waiting forever for summer to arrive (longer days and warmer nights, anyone?) but, let's be real, summer can be pretty expensive. Between indulging in the rosé all day lifestyle, summer travel season, and cute, flirty new clothes, the costs can seriously rack up. And let's not even get started on how expensive attending summer weddings can be. But thankfully, you can stay on budget and even save a few coins — with this expert advice.
Though we said the dreaded "b" word, budget, this is more about cutting back in easy ways that don't require you to sacrifice your plans or summer fun. You can still travel, dine out, entertain, and shop.
1Learn the 50/20/30 rule
It can be hard to save a specific amount when you're on a limited budget, so go for a percentage instead. LearnVest founder and certified financial planner Alexa von Tobel suggested living by the 50/20/30 rule, "which allows you to pay your bills, save for your future, and splurge on some fun things you want to do this summer." Half of your money should be spent on necessities (rent, insurance, groceries, etc.), 20% on savings, and the remaining for shopping, entertaining, and whatever else your heart desires.
2Save on ATM fees
Some ATMs can charge up to $5 in fees, but even if your home bank isn't near, you can skip the fees. "The cash back option is a frequently forgotten fallback," said Jennifer Sammarco, product lead Simple, a banking app. Head to a nearby store, buy something you need or even just a pack of gum, and get cash back free of charge.
3Lower your car insurance bill
If you have a car but feel like you barely drive, you might want to call your insurance provider, stat. "Do you walk, bike, or use public transportation to get to work? You may be a low-mileage driver and that could mean big savings on your insurance bill," said Carrie Dolan, CFO of Metromile. She suggested tracking your miles in an average week, then calling your insurance company to see if you qualify for options like pay-per-mile.
4Have drunk brunch at home
Who doesn't love a good bottomless mimosa brunch? Sadly, those costs can rack up quick. Instead, invite your friends over and make a pitcher cocktail at home that's sure to please everyone — and your wallet.
"Make some rooibos or hibiscus tea and chill it. Once chilled, pour it into a pitcher, add some Aperol and top it off with sparkling wine," said Natasha David of Nitecap. Top it all off with whatever fruit you have around, add ice, and you've got a pitcher cocktail.
5Sign up for a restaurant subscription service
Dining out can be crazy expensive, but some services make it a bit cheaper when you buy in advance. "Let's say you get a $10 lunch twice a week, that's $1,040 throughout the whole year for just lunch. With a restaurant subscription service, like MealPal, you'd only be spending around $624, which means you have an extra $400," said Jake Serfas, lead financial strategist at OWRS.
6Iced coffee vs. cold brew — what you need to know
We all love cold coffee in the hot summer months, but Bobbi Rebell, certified financial planner and host of the "Financial Grownup" podcast, told HG you might be surprised to find you're being charged for the wrong beverage. "Sometimes coffee shops will assume you want the more expensive cold brew and ring that up. Be clear and watch that they put in the correct price for the lower-cost iced coffee," he said.
7Use social media to save on your fave brands
You're probably scrolling on Instagram anyway, but did you know it's full of savings? Sara Skirboll, Retail Me Not's shopping and trends expert, told HG, "Oftentimes, [brands] release special deals and offers to their loyal fans and followers [on social media]." So check out your favorite clothing store's page and Insta Stories for those codes and promos, especially around holidays and changes in season.
8Pause the one-click payments
"We go online and make a purchase because buying is now only one click away. It's so easy, and that's why it almost feels like you're not paying at all, because the cash — or even your debit card — was never in your hands," said Rachel Cruze, author of Love Your Life, Not Theirs. To curb those impulse buys, remove your debit card info from your browser and favorite shopping sites. The act of actually having to enter your card info might make you think twice.
9Don't buy it, DIY it
It can be tempting to shop for a new wardrobe each season, but you can take what's already in your closet and make it like new. "There are plenty of DIY styles you can create with what you already have. You can stay cool and cute this summer without even having to spend a dime," said Alayna Pehrson of Best Company. YouTube is a great source of inspiration for this, from how to cut a crop top or cut-off shorts, and even different ways to style a button-down shirt.
10Skip the obvious travel destinations
Who wouldn't want to visit a tropical location or Paris in the summer? But that also means you're paying top prices. Marissa Anwar of Darling Escapes suggested exploring closer to home. "Most of the time we want to go somewhere because it's on our list, but when you factor in that most places double in costs in high season, you're far better off exploring your own backyard." Trips like a short weekend getaway or camping can be just as fun. Also, you'll save money and avoid large crowds.
11Go on a spending hiatus
If you're really trying to tighten those purse strings, consider a no-buy period. "Other than gas in your car and groceries in your fridge, try at least one no-spend week each month where you don't spend money on any extras (i.e. that Starbucks coffee you love, or that shopping trip you don't need). You'd be surprised how much extra money will stay in your bank account," said promocodes.com consumer savings expert Jill Caponera. If a no-buy week is too long, start out with a weekend or even a day.