Suicide hotline calls spiked 25% after Kate Spade and Anthony Bourdain's deaths — and that's not necessarily a bad thing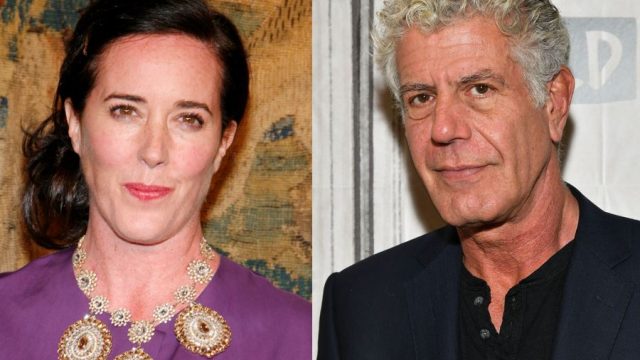 Last week, on June 5th, the world mourned the death of iconic designer Kate Spade after she died by suicide in her Manhattan apartment. Then, only three days later, on June 8th, renowned chef and food writer Anthony Bourdain was taken from us, again by suicide. In the wake of both of these losses, many took to social media to share the number for the National Suicide Prevention Lifeline (1-800-273-8255). And we now know that calls to the suicide hotline have increased dramatically since Spade and Bourdain's deaths.
The Daily Beast reported today, June 11th, that the hotline received 25% more calls in the aftermath of both suicides. And according to HuffPost, the Crisis Text Line (which can be reached at 741-741) saw 115% more messages this past weekend than it did the weekend before.
This phenomenon isn't unique to Bourdain and Spade's deaths, however. John Draper, director of the National Suicide Prevention Lifeline, told the Wall Street Journal that the suicide hotline always experiences an uptick in traffic after celebrity suicides because of the "collective sense of loss that many people feel." Historian Jennifer Michael Hecht recently told NPR that highly publicized suicides can lead others to take their own lives as well.
Overall, the CDC reports that between 1999 and 2016 the number of suicides has increased by 30% in 25 states.
But the increase in calls to these hotlines isn't necessarily negative. Chances are it means that more people are getting the help they need. Heather Senior Monroe, director of program development at the rehabilitation center Newport Academy, told USA Today that lifelines can make a difference.
"We know that one of the best ways to help in people feeling disconnected is allowing them to feel connection with other human beings," Monroe said in an interview.
To anyone who is considering or has ever considered suicide, know that you are not alone. If you or anyone you know is contemplating suicide, don't hesitate to reach out to the National Suicide Prevention Lifeline at 1-800-273-8255.