This is why you'll see students everywhere wearing orange on June 1st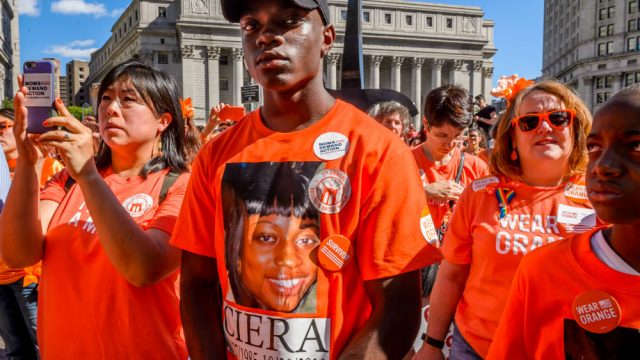 If you're anywhere near a school on Friday, June 1st, you might notice a lot of people wearing orange. And if you're wondering what's going on, we're here to tell you there's an important reason why students everywhere are wearing the same color.
June 1st is National Gun Violence Awareness Day, a day that has never been as crucial as it is right now. Just last week, on May 18th, at least 10 innocent lives were taken when an active shooter walked into Texas's Santa Fe High School. This was the latest in a string of school shootings that have resulted in dozens of deaths in the year 2018 alone.
School shootings aren't the only source of gun violence. Everytown states that, on average, there are nearly 13,000 gun homicides a year in the United States.
Each year, National Gun Violence Awareness Day is also Wear Orange Day. The movement began in 2015 — two years after 15-year-old high school honor student Hayida Pendleton was shot and killed on January 29th, 2013 in Chicago just one week after performing with her high school marching band at Barack Obama's second inauguration. Her death was a tragic, accidental casualty of gang violence. After Pendleton died, her friends wore orange as a tribute to her.
That's how the Wear Orange campaign began.
Each year, the day of awareness is organized by Everytown and partner organizations across the country. The purpose of wearing orange is "to honor those who have lost their lives and [their] loved ones, and to demand a future free from gun violence."
This year, one teen is working hard to get as many people involved as possible. Arieyanna Williams wrote an article for Seventeen stating that on June 1st, she'll be wearing orange "to honor the 96 lives cut short by gun violence every day in this country." Williams is urging people all over the nation to join her in the movement, explaining,
"The Wear Orange campaign reminds us that there are too many stories like Hadiya's in cities like Chicago, Baltimore, and New Orleans. Too many young men and women are being killed before they can walk across a stage for their high school diploma or go for their first driving lesson."
Like many involved in the campaign, Williams has a tragic backstory: When she was 8 years old, her father was shot and killed, and two of her uncles died as a result of gang-related gun violence. Williams said, "My father's murder meant that my only choice was to speak out — and the inaction of our leaders who turn a blind eye to gun violence in our communities fueled my anger."
Getting involved in ending gun violence is more important than ever.
"Simply put, gun rights shouldn't win out over the lives of young people or our families," stated Williams.
If you want to fight for stricter gun control laws and against gun violence, you can wear orange to show your support on June 1st. According to Everytown, there will also be events throughout the weekend, including rallies, marches, and BBQs that you can take part in. Let your voice be heard.