When these students found out that they're seeing "Black Panther" an epic dance party broke out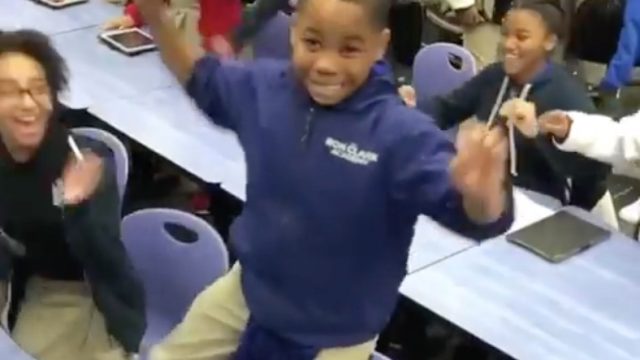 The hype for Marvel's upcoming movie Black Panther is so very real, and we can hardly wait until it opens later this month. In fact, the early buzz for Black Panther is so strong that even Lupita Nyong'o can't get a ticket (and, um, she stars in it). So when a group of students at Ron Clark Academy in Atlanta learned they were all going to see the film, they started dancing. And luckily, someone recorded their epic dance party.
As you can imagine, Black Panther is quickly becoming one of the most anticipated releases of 2018, especially given the kickass Black representation and the countless strong women who are among the film's star-studded cast. So when the students found out they're seeing Black Panther, the result was pretty spectacular.
"They flipped out," Wade King, the school's director of curriculum and instruction, told ABC News. "It was like an explosion of just pure joy."
TBH, we feel exactly the same way. Everything from the upcoming film looks totally amazing, from Kendrick Lamar's Black Panther album to the jaw-dropping posters. Wakanda is *lit* and it's no surprise that people are definitely here for it.
Watch the students react to learning that they get to see Black Panther.
"Everyone was super excited. It was just very emotional," King added. "It was awesome just seeing them super excited about it."
The Ron Clark Academy also had the idea to integrate the comic books into their curriculum. They plan to use them to encourage students to learn about imperial history and African art. According to King, they'll even be using the comic books in science, math, and gym classes.
Before they revealed the surprise to students, a few eighth-grade students kicked off the meeting with an African inspired spoken-word performance that gave us goosebumps.
This performance is just the beginning of a Black Panther-inspired curriculum.
We're so happy for these kids and we hope the movie continues to inspire people around the world. You can see Black Panther when it hits theaters on February 16th. We'll see you there!