A student walked out of school to protest gun violence and got paddled on the thighs by an administrator as punishment
National School Walkout Day, which took place on March 14th, was full of inspiring stories from students trying to make a difference. While many students were backed by a supportive administration, others were not — and some have had to deal with harsh punishments because they took a stand. One of the most horrifying examples we've seen so far is a story out of Arkansas: Three students who walked out of school got paddled on the thighs by school administrators as punishment.
That sentence may sound like it came out a different decade, but unfortunately, corporal punishment — such as being paddled — is still a very real thing in the U.S. in 2018.
National School Walkout Day was meant to give students a chance to lend their voices to the fight against gun violence. Thousands of students and staff were encouraged to protest by walking out of school for 17 minutes.
But that wasn't the case at Greenbrier Public School in Arkansas. Jerusalem Greer, the mother of one of the students who was paddled, tweeted that her son and other students at that school had suffered corporal punishment for participating in the protest. In sharing the students' story, Greer was clearly very proud of her son for taking a stand, even when he knew he would have to deal with the painful consequences.
The paddling didn't come out of nowhere — it's actually in the school's policy guidebook. Greenbrier Public School's official policy says that the school board "authorizes the use of corporal punishment to be administered in accordance with this policy by the Superintendent or his/her designated staff members who are required to have a state-issued license as a condition of their employment."
The handbook says that before students are paddled, they are to be "given an explanation of the reasons for the punishment and be given an opportunity to refute the charges."
As backwards as this sounds, this isn't the only school that still uses corporal punishment on students. As the Washington Post previously reported, 19 states still allow school administrators to hit students.
Wylie Greer was one of the students punished, and he released an official statement on the matter: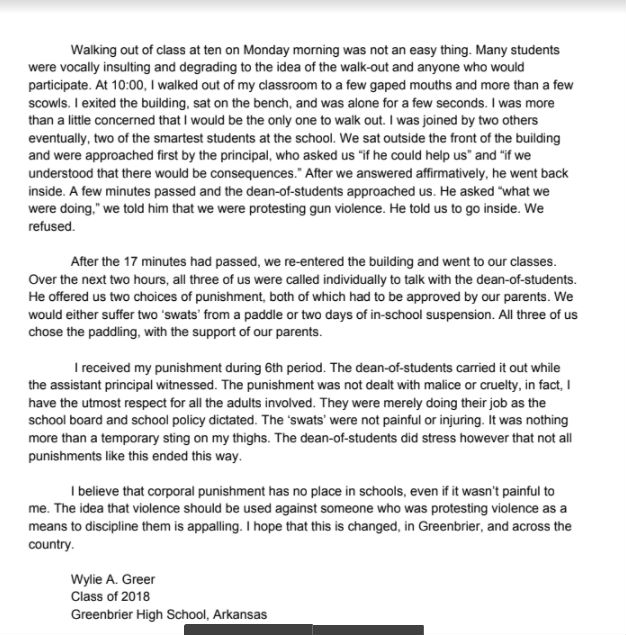 Greer's story is very upsetting to read, but it also shows a maturity and dedication that is absolutely inspiring. It's a reminder that, while many students had support from their administration to walk out, many more did not. This is still a big fight, even with the success of the day.
The Daily Beast reached out to the school for comment on the paddling incident but said that the school's assistant principal, Brett Meek, hung up on them. The superintendent did not respond.
We continue to be inspired by the bravery of these students who put so much on the line to stand up for what they believe in. This generation is truly incredible.