Why street style stars should wear their politics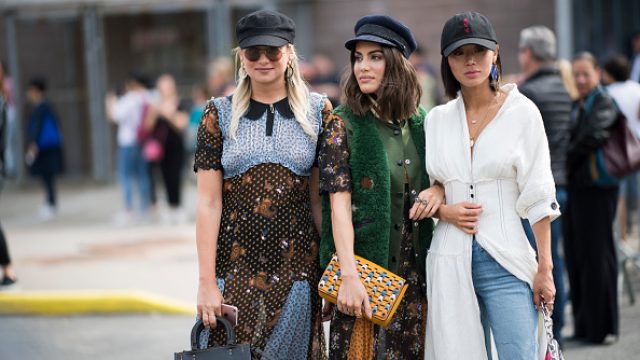 If the street style melee that now goes reliably hand in hand with fashion weeks around the world has shown us anything, it's that it's laid bare the reality that a whole lot of fashion week is (and, I'd argue, always has been) largely about peacocking and appreciating fellow peacockers. And why not? Fashion is fun and when the hell else are you going to wear a marabou-trimmed jacket but to New York Fashion Week's Wangfest?
This season, though, I'm surprised. With the world, and especially the US, seemingly turned upside down—politically, socially, environmentally—I'm surprised I haven't seen so much as a Not My President or Respect Mother Earth slogan t-shirt or a Girls Doing Whatever the Fuck They Want in 2017 phone case among the legions of street style photos.
Related article: The most inspiring street style from New York Fashion Week
The idea being that you can express your beliefs beyond your understandably ardent loyalty towards Supreme x Louis Vuitton or Balenciaga's florals.
When I pitched this story to my editor long before fashion week even started, I expected to be seeing clothing announcing political and social beliefs, well, everywhere. I mean, take a look around, these are the times we live in. Also, we saw it last fashion week in New York, when a slew of bloggers and influencers (Aimee Song, Bryan Boy, Bag Snob's Tina Craig, Shea Marie and others) wore Prabal Gurung's t-shirts emblazoned with phrases like The Future is Female (he did similar shirts this season) in a very memorable spontaneous street style photo shoot, and when the CFDA's Stand with Planned Parenthood pins were the accessories of the season. I am surprised now because it's not like any of the issues we were talking about six months ago have become any less urgent or dire (except, perhaps, for the fact that Planned Parenthood's funding remains intact for now).
Related article: Our 12 least glamorous fashion week essentials 
But when I pitched the story, expectations set, I wasn't exactly sure what my conclusion would be—I wasn't sure whether I'd come out in favor of political slogans as street style or not. But now, as New York Fashion Week draws to a close and I haven't seen nary a tote bag, I know what my opinion is, and it has to do with the intent and self-awareness of those photographed.
Again, there's no denying that, at fashion week, attendees dress to be seen. In other words, they know that they're going to be observed by their colleagues and peers at the shows, and, if they're photographed (which they will be) and that photograph is published on one of dozens of websites and regrammed or republished repeatedly, they also know they will be seen by thousands, maybe millions, of other fashion watchers all over the world.
The point being this: The men and women who are street style fodder have a platform—and a powerful one at that. What they wear and how they wear it will reverberate across retail and trend-setting for potentially seasons to come.
I'm not saying that editors and bloggers and models and buyers need to hang up their fashion desires and only wear vintage campaign tees.
But I do think a little bit of acknowledgment—a gesture, in the very least, towards where they stand on fascism, free speech, racism, climate change, nuclear war (literally take your pick, they're all available and relevant)—because I know so many of these people hold clear and strong opinions. It's important, especially right now, that the fashion industry not exist in a bubble. The shows must go one despite fears over DACA and category 5 hurricanes, yes, but the shows don't exist apart from these circumstances. And street style is the most visible and influential way of displaying our awareness of that. And the likability and engagement power of such a street style shot? I'd say it would be pretty limitless.
This article originally appeared in Coveteur by Emily Ramshaw.