You can stream Just Mercy for free this month to learn more about systemic racism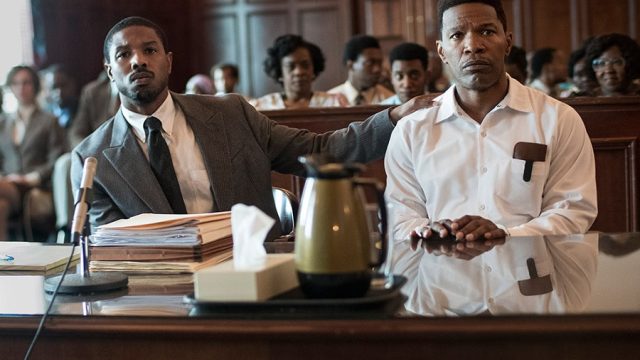 Amid Black Lives Matter and George Floyd protests, many allies are looking for ways to increase their understanding of racial injustice in America. Warner Bros. announced it's streaming Just Mercy, a 2019 based-on-a-true-story movie starring Michael B. Jordan, Jamie Foxx, and Brie Larson, for free online in June as an educational resource.
The film was initially released on Christmas 2019, and it is based on Bryan Stevenson's 2014 memoir Just Mercy: A Story of Justice and Redemption. Jordan portrays Stevenson, an attorney who aims to establish an Alabama legal practice to help those on death row seeking appeals. Foxx plays a prisoner trying to prove his innocence in a murder case. Stevenson works to fight against the pervasive racism at hand in the state's legal system.
In a statement announcing that the film will be available to stream for free, Warner Bros. said, "We believe in the power of story."
"Our film Just Mercy, based on the life work of civil rights attorney Bryan Stevenson, is one resource we can humbly offer to those who are interested in learning more about the systemic racism that plagues our society."
Warner Bros. continued by thanking the "artists, storytellers, and advocates who helped make this film happen," adding, "Watch with your family, friends, and allies." The production company also called out the Equal Justice Initiative, an organization Stevenson founded in 1989 that works end mass incarceration, excessive punishment, and racial inequality in Montgomery, Alabama.
Just Mercy was the first WarnerMedia film to feature an inclusion policy, as the company partnered with Jordan on a policy to hire more people of color, women, people with disabilities, and LGBTQ people on their productions. In a 2018 statement announcing the partnership, Jordan called it a "legacy-bearing moment," adding, "The WarnerMedia family has introduced an approach that accomplishes our shared objectives, and I applaud them for taking this enormous step forward. I'm proud that our film, Just Mercy, will be the first to formally represent the future we have been working toward, together."
https://www.instagram.com/p/BnWnE86nihK
You can watch Just Mercy via YouTube here. It's also available for free across streaming services, including AppleTV, Google Play, and Amazon Prime.