Strawberry cherries are the creamy pink fruit Elle Woods would eat by the pool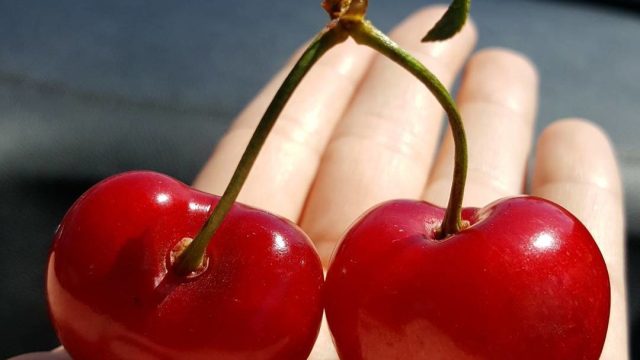 Are you on the lookout for a sweet new summer snack? If so, you may want to check out these Elle Woods-approved strawberry cherries. You're probably thinking, "What kind of wizardry is this? What in tarnation is a strawberry cherry?"
These little guys — though, actually, they're a lot larger than your average cherry — hail from Yakima Fresh, the Washington-based partnership between Northwest growers, packers, and shippers: Roche, Stadelman, and Yakima Fruit. Yakima Fresh claims that strawberry cherries are derived from "a unique tree stock grown in Washington State at Yakima Fresh."
They thrive under ideal growing conditions and, while bright red on the outside, contain a creamy, pink center.
Steph from the Fearless Fresh food blog picked up a carton of strawberry cherries to see if she'd prefer them over regular tart cherries. She described their flavor, saying,
"Strawberry cherries don't taste like strawberries, but they don't really taste like cherries either. I suppose you could say the flavor is somewhere in the middle; sweet and gently tart, without that weird 'cherry' twang that I abhor."
https://www.instagram.com/p/BGncxpRDbBn
The Yakima Fresh website does not state that their strawberry cherries are non-GMO. But a follower of the Fearless Fresh blog who lives outside of Yakima said that the berries are a local staple and are, in fact, non-GMO.
Although humans definitely had a hand in creating them, the blog's followers note.
If you see strawberry cherries in your local grocery store, we highly recommend you pick them up and give them a try. They're the perfect poolside or beach snack that will certainly satisfy your sweet tooth.