We're still trying to figure out the strap situation on Emma Watson's elegant black and ivory jumpsuit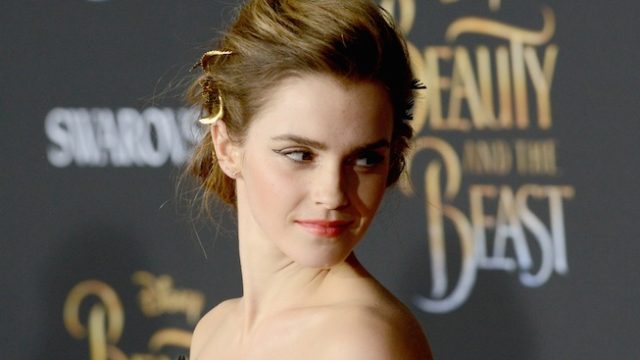 The Beauty and the Beast press tour has gifted us with so very many incredible (and eco-friendly) style moments from Emma Watson. We've been following her brand new fashion Instagram account very closely, and the latest piece to catch our eye is a jumpsuit designed by Roland Mouret.
It's full of playful straps that are super intriguing…we're thinking that some hold the top in place, and others are decorative. You can be the judge, but either way, the black and white theme is classy AF, and Watson radiates confidence in this incredibly unique ensemble.
Remember to scroll through, because there are multiple photos in this one post!
See what we mean about the straps?! Definitely not something you see every day.
via giphyIt's also definitely not your everyday jumpsuit, and we mean that in the best way possible.
Oh, Emma…how do you stumble upon such amazingness all the time?! Well, it's actually all part of the design. In an interview with Coveteur, Watson shared her new attitude about fashion and choosing eco-friendly options.
"[Becoming conscious about dressing] has been incredibly liberating, in a funny way. Because it's narrowed my options so much, I'm much more creative. I actually really think it's helped me dress better because I have less, but they're things that are perfect," she said. There you go!
Seriously, her Beauty and the Beast press tour Instagram is bursting with inspo. Yesterday, she posted her outfit from The Ellen Show, and we're totally crushing on that pink Oscar de la Renta top.
Thanks for dazzling us (yet again) with your incredible knack for style, Emma! If you see us in a strappy jumpsuit sometime soon, you'll know where we got the idea.