Netflix just dropped the Stranger Things Season 3 episode titles, and we have so many questions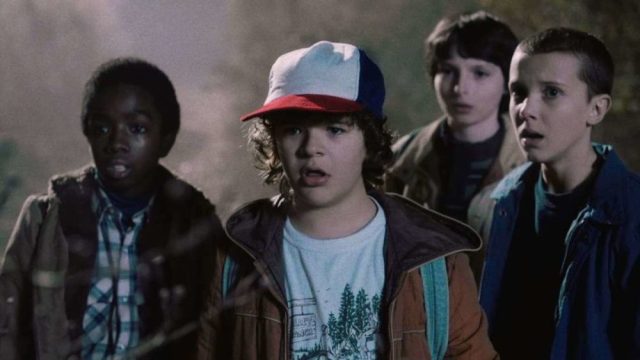 We may still be months (and months) away from Stranger Things Season 3, but Netflix is making sure its viewers don't forget about the beleaguered kids of Hawkins, Indiana. The streaming giant dropped a list of episode titles Sunday, December 9th, and while they don't reveal much about the plot of the highly-anticipated third season, fans of the Upside Down are studying them intently for clues.
Here are the eight episode titles:
1. Suzie, Do You Copy?
2. The Mall Rats
3. The Case of the Missing Lifeguard
4. The Sauna Test
5. The Source
6. The Birthday
7. The Bite
8. The Battle of Starcourt
While, again, it's difficult to read too much into these titles, they do give us a few clues. For example, we already knew that Starcourt Mall would play a role in the upcoming season—but we didn't know to what extent. With episode titles like "The Mall Rats" and "The Battle of Starcourt," it seems like it's going to be pretty significant. (Honestly, we're just ready to watch Steve working at Scoops Ahoy.)
The rest of the titles are harder to figure out…apart from the fact that "The Case of the Missing Lifeguard" sounds like an excellent Nancy Drew novel and that "The Source" sounds like something sinister. Executive producer Shawn Levy recently teased that the upcoming season is going to be even darker than its predecessors in an interview with Deadline, so it seems like a safe bet.
https://www.youtube.com/watch?v=PH3kBCSfL-4?start=1&feature=oembed
The summer of 1985 can't come soon enough.