Stranger Things just released the first teaser for Season 3 — and gave us a peek at Steve's new job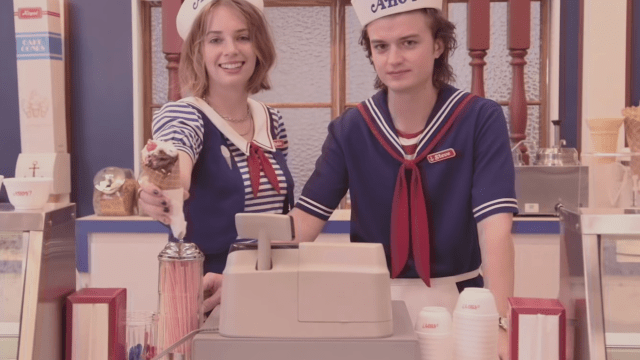 As if Stranger Things wasn't already stuffed with top-notch '80s nostalgia, Season 3 is adding one of the most iconic '80s suburban landmarks: The mall. The first promo from the upcoming third season of the hit Netflix series just dropped, teasing the major Season 3 location.
The video, which was shot in the style of an '80s TV commercial, teases the opening of the BRAND NEW Starcourt Mall in Hawkins, and showcases the mall staples heading to the Indiana suburb — from Gap and Claire's to The Food Court and apparently, Steve Harrington? Yes, like countless teens before and after him, Steve Harrington (Joe Keery) has found himself a summer job at the mall. It appears Season 3 will find recent Hawkins High School grad and everyone's favorite teen "parent" working in the new mall's ice cream parlor, Scoops Ahoy.
In addition to our first glimpse at (hopefully) a post-high school Steve, the promo also gives us our very first look at Season 3 addition Maya Hawke, who plays his co-worker, Robin. And on a more devastating note, the promo also suggests the series won't be making a return until next summer…aka 2019. An entire year from now.
The third season of the acclaimed Netflix sci-fi series is set to take place in the summer of 1985, meaning we'll be seeing a lot of the mall…which will likely be destroyed by the Mind Flayer and any looming monsters from the Upside Down.
However, here's the optimistic promo of the new Hawkins Starcourt Mall:
https://www.youtube.com/watch?v=aXyju7zFwyE?feature=oembed
Oh Hawkins Starcourt, you have no idea what a wild ride you're in for. But while the promo looks almost uncharacteristically upbeat for the sci-fi drama, the tone for Season 3 couldn't be more different.Stranger Things executive producer Shawn Levy recently revealed that season three would be "darker" than its two predecessors.
Stranger Things is reportedly set to return for its third season next summer.