Stranger Things Season 3 will premiere on a major holiday, giving you the perfect opportunity to binge-watch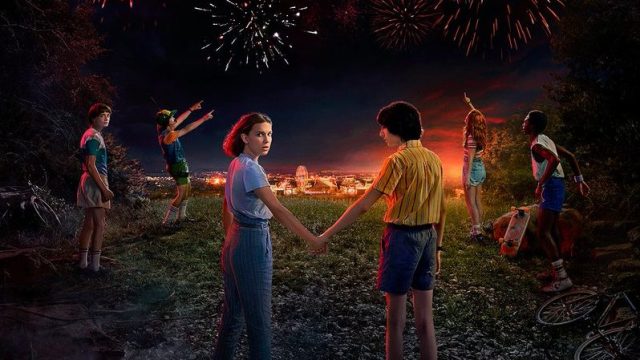 It's been more than a year since Stranger Things' second season premiered on Netflix, and if you've been missing Eleven, Dustin, Mike, Lucas, and Will, we have some very good news for you. The show is coming back in 2019, and best of all, new episodes will be here at a very convenient time for binge-watching.
On Monday night, December 31st, 2018, Netflix announced that Stranger Things Season 3 will be released on July 4th, which means after the fireworks and the cookouts, you can settle in on the couch to reunite with your favorite residents of Hawkins, Indiana.
First things first: The amazing new promo video. Considering Netflix dropped this news on New Year's Eve, it's totally appropriate that the promo video is an interruption of the 1985 edition of Dick Clark's New Year's Rockin' Eve. The screen gets taken over by green code that reads "When blue and yellow meet in the west," and then Dick Clark goes off air just as the clock strikes midnight.
"One summer can change everything," the screen reads. "July 4, 2019."
https://www.youtube.com/watch?v=UlpmMRrt-s8?feature=oembed
But that isn't all Netflix shared with fans last night. The Season 3 promo poster also made its debut on New Year's Eve, and it features Mike and Eleven holding hands under a sky brightly lit by fireworks, surrounded by their friends, including Dustin, Will, Lucas, and Sadie—but instead of enjoying the holiday, Eleven looks pretty freaked out.
About what? Guess we'll have to wait until Independence Day to find out.
It's hard to predict exactly what will happen next, but we do have the season's episode titles to pore over until the Season 3 hits our screens.
https://www.youtube.com/watch?v=PH3kBCSfL-4?feature=oembed
We're crossing our fingers that the seven months between now and the Netflix premiere pass pretty quickly—and that we get more scenes featuring Steve as the world's best babysitter. Is that too much to ask?