The Duffer brothers have a very interesting Pixar movie they want to emulate in "Stranger Things" Season 2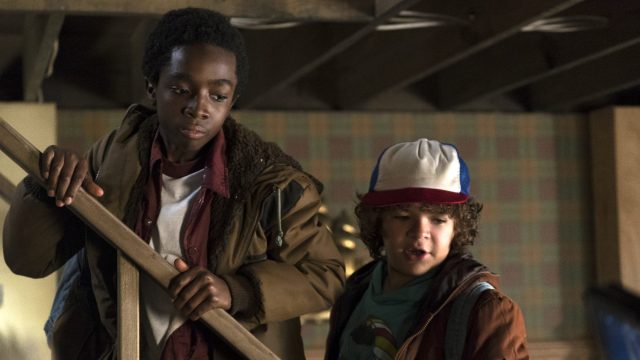 As you watched the first season of Stranger Things was the first comparison you thought of Toy Story? Neither did we, but apparently that's what the Duffer brothers want us to be thinking about as we watch the second season of the Netflix series.
In a new cover story for Entertainment Weekly, the Duffer brothers talked about trying to avoid the sophomore slump with the followup season to the surprise hit series. Matt Duffer revealed that while conceptualizing the followup to the breakout first season, the brothers took a cinematic approach, likening it to a sequel, rather than a second "season," per say.
So what does this have to do with Toy Story? According to Matt, everything.
"We want people to argue about what season is better," He explained to EW. "I want the debate. I want the Toy Story debate!
Okay, so we're not supposed to *see* Toy Story in Stranger Things, like we do with The Goonies or E.T., rather we're supposed to get the *feel* for the Toy Story films, which are all so incredible that they've been the subject to rabid debates over which is the superior film — let's not even bring Toy Story 3 into the mix, because none of us have time to cry right now.
Matt told EW that when the brothers first described the second season of Stranger Things as a sequel to Netflix, they were met with some hesitation.
"When we started describing it as a sequel, Netflix was like, 'Don't do that, because sequels are known to be bad,' Matt told EW. "I was like, 'Yes, but what about T2 and Aliens and Toy Story 2 and Godfather II?'"
It certainly seems like the Duffer brothers have *pretty* high expectations for the second season sequel. The series will pick up a year after the events of the first film, as Will begins to suffer from PTSD after his experience in the Upside Down, having nightmares about a "shadow monster," which holds the key to the new mystery. According to the Duffer brothers, season two ups the stakes and Hawkins is going to see even more action than in the first season. It's also supposed to be even scarier so maybe watch it with the lights on — during the day.
The Stranger Things 2 will begin streaming on Netflix on October 27th.