Someone created a "Stranger Things" pop-up bar, complete with a boozy Eggo slushie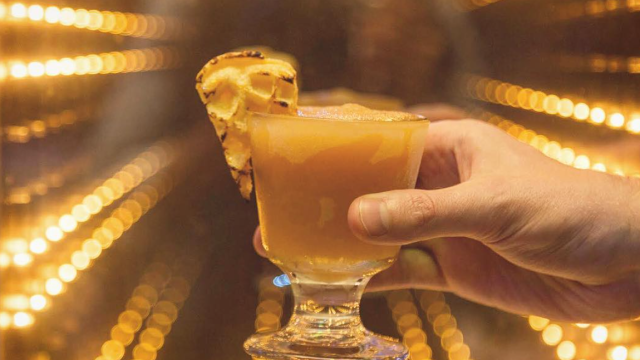 In case you were wondering, we're only two months away from the Season 2 premiere of Stranger Things. And yes, we're still freaking out. It's been a year since we've gotten to catch up with Eleven, Dustin, Lucas, Mike, and Will, who spend their time doing totally normal preteen things like battling monsters in The Upside Down.
Now, while we can do without battling evil, we do have major FOMO from missing out on the adventures this crew goes on. That's why a Stranger Things pop-up bar in Illinois is beckoning us to come have a cocktail in The Upside Down.
The bar, which is aptly named The Upside Down, features everything from the classic wall of lights to drinks inspired by the show and its characters.
Love Eleven? Well, you can order a boozy slushie with a wedge of Eggo waffle in it, called "Eleven's Eggo." All the aesthetic fun of being a kid in the '80s plus a boozy slushie? This sounds like a match made in heaven.
The Upside Down, which is put on by Emporium Popups, will be going on until the end of September. That means we have ample time to go and relive our strangest fantasy. And since the space actually looks like it could be the set for Stranger Things, and features art and installations inspired by the show, you know this experience will be worth the trip.
https://www.instagram.com/p/BX_LQwIBNrU
Even if you can't make it, maybe it will inspire your cocktail repertoire. And at the very least, it will remind us that Stranger Things will be back on before we know it.