The new "Stranger Things" Funkos have arrived, and at least Barb lives here
Just when we were thinking about how much miss last year's summer vacation in the Upside Down, Funko came through to fill the Demogorgan-sized hole in our hearts. The pop culture toy company *just* announced that it would be releasing a brand new line of toys dedicated to our favorite Hawkins, Indiana, residents.
This amazing announcement comes almost exactly one year after Stranger Things was quietly released on Netflix — only to become one of the biggest breakout shows of the year. But since Funko is the epitome of pop culture goals, they're releasing an entire line, complete with all your faves — including your favorite middle school gang, Barb Holland, and the Demogorgan.
Since we never *actually* saw justice for Barb, we're glad she gets to live on in Funko form.
As always, the toys feature some of the best callbacks from season one, like Joyce and her Christmas lights, Hopper and his coffee, and Nancy and the gun. We don't know how we can wait until September for these to come out! But as if it couldn't get any better, the line also features certain exclusives — like Upside Down versions of Barb and Will and Steve and his bat — that can only be found at certain places like Hot Topic, GameStop and Target.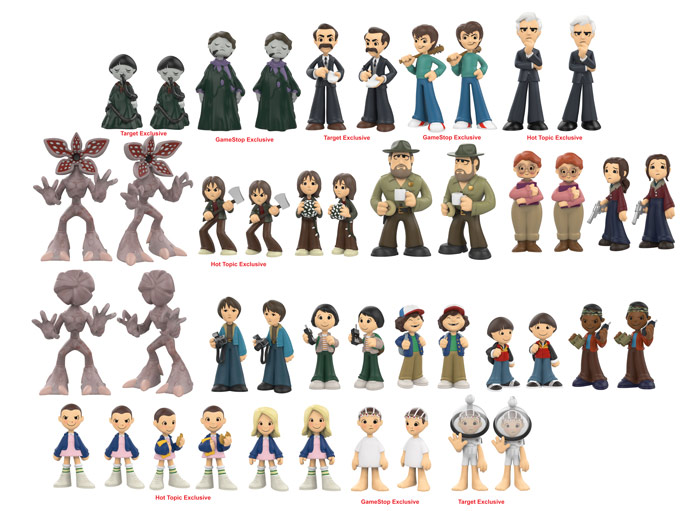 In addition to Funko dolls, the toy company is also releasing a set of Stranger Things plushies — which include Eleven, Mike, Will, Dustin, Lucas, and Barb — which we're going to need an entire set of. If that isn't enough, the toy company is also working on *more* Funko dolls to celebrate our love for Stranger Things, with new versions of Hopper, Eleven, Jonathan, Karen and Joyce.

Stranger Things may not be back for season two until Halloween, but Funko is going to help us ride out the wait with their amazing new line.