This video of the Stranger Things kids personally wrapping presents for fans is possibly the cutest thing of the decade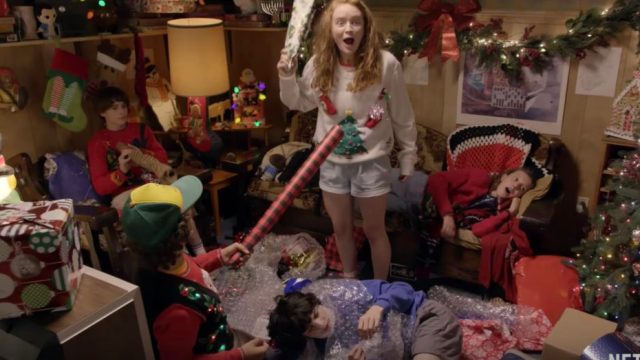 The countdown to Christmas is well under way, and for many holiday procrastinators, that means rushing to buy and wrap presents. If you have yet to get all your gifts under the tree, you're not alone. In a new video, the Stranger Things kids try their best to make presents for fans look, well, presentable—and naturally, hilarity ensues. Netflix posted the special holiday video today, December 20th. In the clip, the young stars of Stranger Things wrap show-related merch for fans, decked out in their finest ugly sweaters for the occasion.
And…things quickly get out of hand. Finn Wolfhard yells at someone to stop stepping on his gift, Noah Schnapp snatches ribbon right out of Sadie Sink's hands, and boxes and wrapping paper are strewn all over the place. There's dancing, chanting, and general goofiness, but somehow all of the gifts manage to get wrapped. Amid all the chaos, the kids also discuss the best and worst wrappers of the bunch. Sink's skills receive high praise from most of her castmates.
"Honestly, Sadie wraps presents the best. She's perfect in everything she does," Caleb McLaughlin says before catching himself and adding, "Okay, not like that."
Millie Bobby Brown, deemed the worst at wrapping, humorously says the best wrapper she knows is Cardi B. Schnapp declares himself both the best and the worst, saying, "I don't waste my time doing it one by one."
Watch the hilarious hijinks below.
https://www.youtube.com/watch?v=ugfoGIGE9O8?feature=oembed
Hopefully, our Christmas wrapping goes a little more smoothly than theirs did. Happy holidays, everyone!