The Stranger Things kids walked through an "upside down" haunted house, and the fear was so real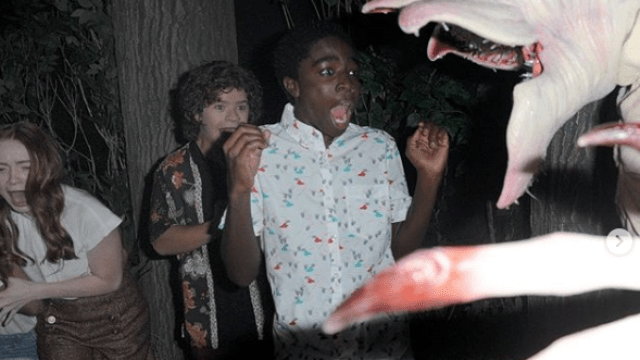 'Tis the season for spooks, scares, and rewatching the first two seasons of Netflix's Stranger Things. And the only thing better than those three things on their own is…all those three things all at once. The Stranger Things cast recently walked through the 2018 Universal Studios Halloween Horror Nights' "Upside Down"-themed fun house, and—as we hoped— chaos ensued.
On September 14th, Stranger Things stars Gaten Matarazzo (Dustin), Caleb McLaughlin (Lucas), Sadie Sink (Max), and Priah Ferguson (Erica) got an exclusive first look at this season's Universal Studios Hollywood Halloween Horror Nights. The attraction, which is now open to the public until November 4th, brings all of our favorite Stranger Things spooks to life: Demogorgons, moving wallpaper, more Demogorgons, and even a statuette of Dustin, which Matarazzo called "the scariest thing here."
Although one would think these kids are used to the strange and unusual by now (they live in Hawkins, Indiana after all), it seems that seeing their nightmares hop out of CGI form and into real life was, well, super scary.
https://www.instagram.com/p/BoKFueKl-A2
Watch the full walk-through below.
https://www.youtube.com/watch?v=cYU0dciQmZ8?feature=oembed
The Stranger Things fun house is just one of several haunted house attractions available at Universal Studios this year. The park has also set up Poltergeist, Halloween 4, and Trick 'r Treat-themed mazes. There's no way you're leaving the grounds not thoroughly freaked out.
You can get your tickets here if you live in the L.A.-area. The rest of us will just have to binge-watch the first two seasons of Stranger Things.