If these Instagrams are true, then the "Stranger Things" kids are modeling for a major fashion brand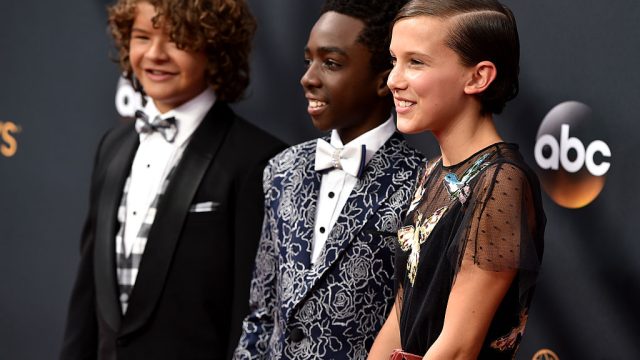 Ok, we admit it. We are totally and completely obsessed with Netflix's Stranger Things. Specifically, the adorable kids: Millie Bobby Brown, Caleb McLaughlin and Gaten Matarazzo.
As if rocketing to fame in a critically acclaimed television show wasn't enough, it now appears that they kids may be the new faces of Louis Vuitton.
Millie, Caleb, and Gaten appeared on Nicholas Ghesquière's Instagram account, looking totally fab. Ghesquière is Vuitton's current creative director.
https://www.instagram.com/p/BKtRxEyh9lI
The caption totally plays with our fashion emotions.
"Such a fun day and exciting project coming up, thanks to all of you guys," Nicholas wrote.
To make things more interesting, Ghesquière also posted the group posed in these very fashion-forward outfits.
https://www.instagram.com/p/BKsoG43BrtP
We really hope those sunnies and fur-trimmed coat come in adult sizes! Nothing has officially been announced by the brand or Nicholas, but Caleb McLaughlin also posted the photo, thanking Nicholas for the experience.
And, Millie Bobby Brown chimed in with her own selfie.
https://www.instagram.com/p/BKtHPx5j2pd
We'd kill for that leather jacket! Louis Vuitton has appealed to younger audiences in recent years through their campaigns with Selena Gomez and Jaden Smith. We can only hope that the Stranger Things collection is as '80s inspired as the show, because we're craving a designer fanny pack!