The "Stranger Things" kids literally took selfies with everyone at the Golden Globes, and we'd honestly do the same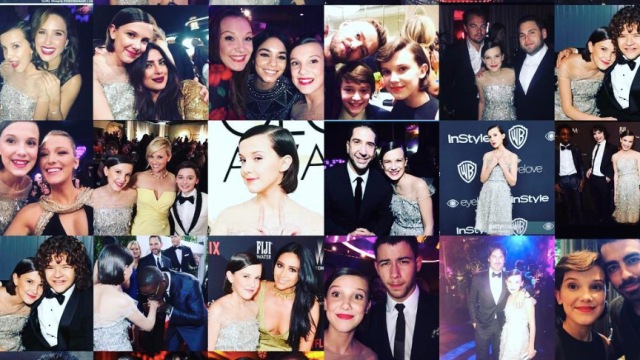 Celebrities, they're just like us! When the Stranger Things kids went nuts meeting their idols at the awards show and took selfies with every person at the Golden Globes, we weren't surprised. Now if you haven't seen the show, or are the type to stay away from the hype, this show fully deserves it. Between the cast, the plot line, and the killer music, we are looking forward to fangirling for seasons to come!
Millie Bobby Brown (Eleven), Gaten Matarazzo (Dustin), Finn Wolfhard (Mike), Caleb McLaughlin (Lucas) and Noah Schnapp (Will) took photos with EVERYONE last night. From Pharrell, to Nick and Joe Jonas, Shay Mitchell, and Blake Lively it was a long night for the bunch.
https://www.instagram.com/p/BPDc1mkAjce
Seriously who didn't Millie Bobby Brown take a photo with?! We give the girl major props for being able to keep up the excitement in every single selfie!
https://www.instagram.com/p/BPCNqDCD1h9
Also Noah Schnapp couldn't help but be appreciative of how down to earth some of his biggest idols were.
Although this one was a bit blurry we are forever grateful of Caleb McLaughlin capturing a picture with the Queen herself, Tracee Ellis Ross!
Also look at the manners on these kids! While he is known as Al Roker to many, he's just Mr. Roker to Gaten Matarazzo.
https://www.instagram.com/p/BPBbsxZDK0_
https://www.instagram.com/p/BPDl-hPg-aX
They also got snaps with Reese Witherspoon:
https://www.instagram.com/p/BPCK-_agwtP
Amy Schumer:
https://www.instagram.com/p/BPB678Vl0I1
and Anna Kendrick:
But at the end of the day no matter how many celebrities these kids meet it looks like they are always lucky just to hang out and experience this moment with each other!