Joe Keery has the best idea ever for "Stranger Things" Season 3, and it involves a Hopper and Steve dream team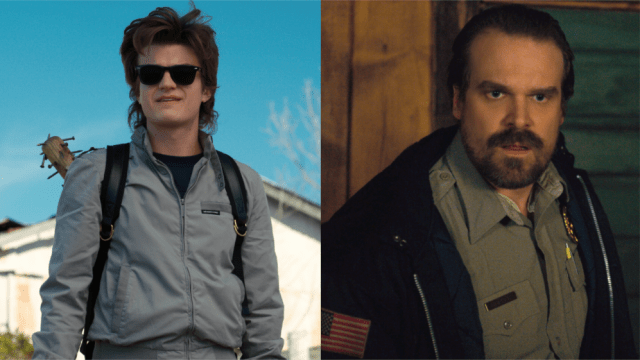 Now that we *officially* know that Stranger Things will be back for a third season, we're spending all our free time trying to come up with the most outrageous and incredible situations for our favorite Hawkins residents. While we know very little about the upcoming season — other than the expected time jump — we're already excited because the Duffer Brothers made it very clear during the first two seasons that they're up for anything.
One of the best aspects of Stranger Things' second season was getting to know our favorite characters as they got pushed out of their respective comfort zones and spent time with characters we hadn't seen them interact with much before. From Hopper and Eleven to Dustin and Steve, Stranger Things 2′s surprise duos broke the mold in the best way possible.
Naturally, we're hoping the Duffer brothers continue with their Odd Couple-esque pairings in Season 3 — and we're not alone.
In a new interview with MTV, Steve Harrington himself, Joe Keery, revealed that he'd love to see Steve opposite Chief Hopper (David Harbour) next season. While Keery and Harbour have an adorable bromance outside the series — which is well-documented on Instagram, and #BLESS — it seems they're finally ready to take some of that to the small screen.
"I'd love to have scenes with Hopper," Keery said. "I just think David's so sick and such a great actor, and I think that'd be kind of funny."
We're 100% percent on-board with this idea — and it actually might just work.
In Season 2, Steve's a senior struggling with college applications and is pondering life after high school. But because he's such a popular character, there's no way the Duffer Brothers can just send him off to college away from Hawkins. Frankly, it only makes sense that Steve becomes Hopper's newest deputy. Seriously, imagine that.
"Steve thinks he has it all figured out, and I don't think he thinks of himself as dumb, but he's definitely not the fastest guy," Keery said. "In a pinch, he can kind of work his way out of situations. With Hopper, they could lend to each other in that way, and some funny stuff could happen. I don't know, it could be like a buddy-cop movie or something."
This is seriously the best idea since Farrah Fawcett's collaboration with Fabergé Organics. Duffer Brothers, if you're reading this, please make this happen! But like, let's keep the Steve and Dustin goodness coming too, k?