Turn your baking up to Eleven with these "Stranger Things" desserts
In just a matter of days Stranger Things will — at long last — return to Netflix with Season 2. Many of you may be throwing or attending Stranger Things viewing parties. Or perhaps you're planning on watching alone, so you can give the show your full attention.
In any case, you need snacks — sweet and savory. But for these purposes, I'm focusing on #SUGAR because I got my hands on Stranger Fillings, a parody cookbook by The Muffin Brothers (hehe).
"What do you get when you cross gummy-worm slugs, Eggo waffles, strawberry-jam blood, and a whole lot of buttercream? From the hilarious duo behind successful spoof cookbooks such as Baking Bad, Game of Scones, and The Walking Bread, comes Stranger Fillings, a parody cookbook inspired by Stranger Things, the Netflix series adored by millions," the book's description reads.
"Offering inventive, side-splitting — sometimes literally, as Will's Face Cake, the marshmallow-oozing brioche boy can attest — recipes and one-liners, this book is sure to please fans of the supernatural, '80s pop culture, and baking alike."
The cookbook includes a difficulty gauge — although, it's pretty clear in most cases, i.e. The Upside Down Cake seems hella hard to make by name alone — and step-by-step instructions. I decided to make Hopper's Coffee & Contemplation, Light Bites, and Eleven's Eggos. Here's how it went and turned out — and admittedly, I took some creative liberties.
Hopper's Coffee & Contemplation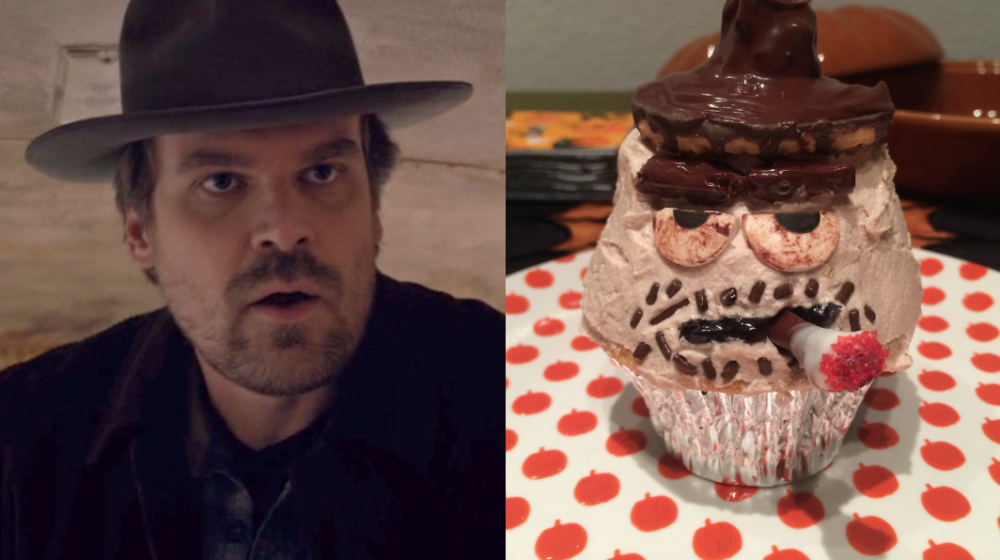 Alright, this one was definitely the hardest of the three to make because of the details. Some of the liberties taken here? Well, I couldn't find the coffee liqueur required and my cupcakes didn't rise the way I was hoping… So there are definitely *two* cupcakes packed in there. But like, who doesn't want *more* sugar? I also mixed things up with the decorating, but LET ME EXPRESS MYSELF OKAY. All in all, this might have kept me up way too late on a school night, but it's worth it to show a little love to Chief Hopper/David Harbour.
Light Bites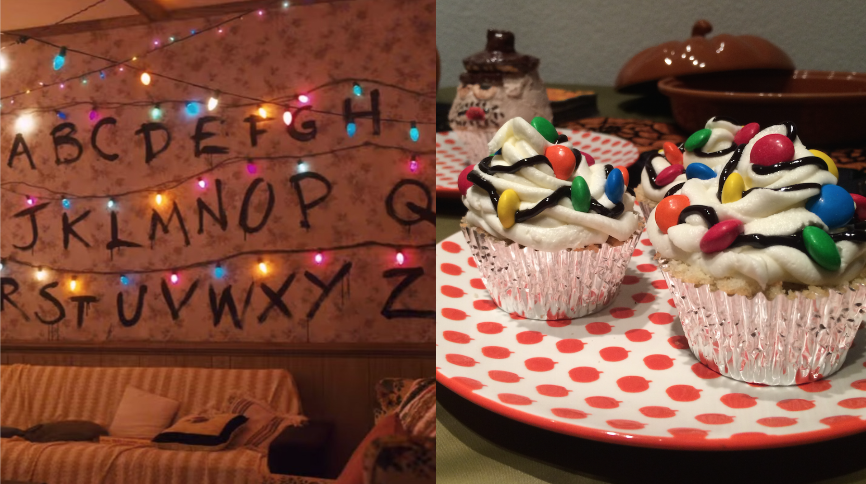 These bad boys were *much* easier to make. These cupcakes also didn't rise as I'd hoped, like with Hopper's Coffee & Contemplation. But they tasted great, as did the (very sweet) buttercream frosting. Even better? The cupcakes were super fun to decorate. The takeaway: These are the perfect fit if you're looking for something that is very on-theme and challenging to make, but not too challenging.
Eleven's Eggos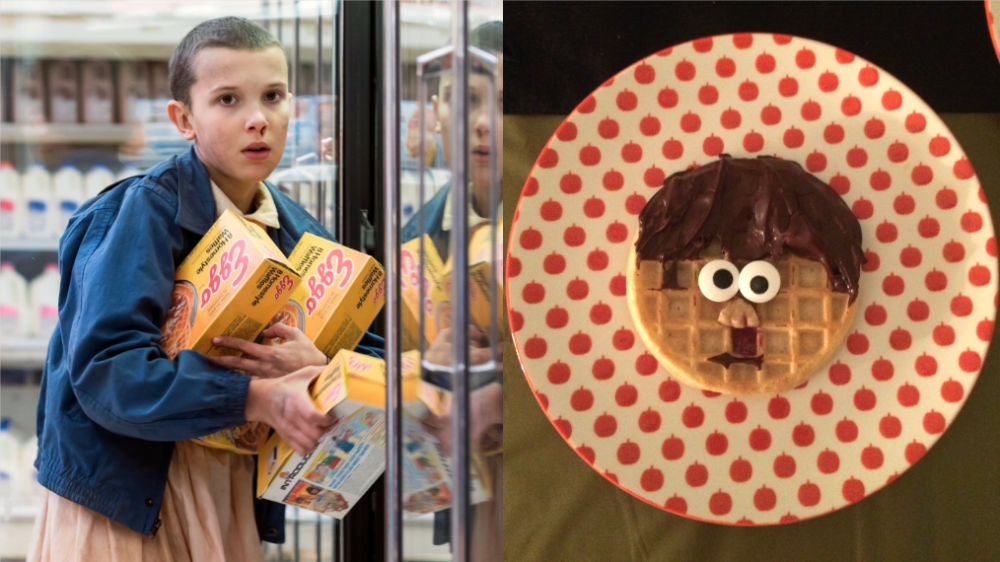 Speaking of challenging…just kidding. Decorating an Eggo — Eleven's snack of choice — was not hard at all and actually a really good time. For this, I literally just dipped the waffle in chocolate, added a couple candy eyes, made a banana nose, and added some jam to recreate Eleven's frequent bloody noses. And like, isn't the resemblance uncanny? Mhmm, TOTALLY uncanny.
So, are you salivating, or are you salivating? Happy watching, and happy snacking!