"Stranger Things's" David Harbour broke the 2018 Super Bowl with his Tide ad — watch it here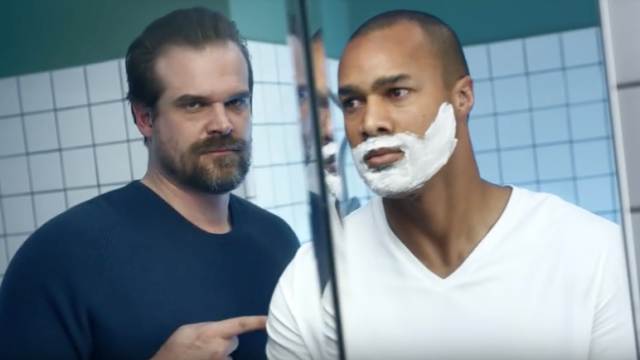 You're not into #sports. We get it. You instead arrive to Super Bowl parties with the intention to fill your stomach with a rainbow of dips, as you fill your mind with all the Super Bowl commercials people will be talking about the next day. Well, in case you need a recap, we have the one and only 2018 Super Bowl ad you need to watch — and it's courtesy of Hopper (David Harbour) from Stranger Things and Tide (yes, the detergent brand).
Stranger things have happened.
In a one minute-long commercial, our favorite Hawkins police chief finds himself inserted into your average commercials. He's wearing a suit while driving a car. He's at a bar when — oops! — his beer slides off the counter and laughter ensues. And of course, Harbour bounces on a white bed covered in white roses. Classic. The point of the matter is that all of these end up being Tide ads because all of them involve clean clothes. Brilliant. 
Don't worry. We wouldn't want you to miss out David Harbour's Super Bowl hilarity.
https://www.youtube.com/watch?v=doP7xKdGOKs?start=60&feature=oembed
"They are doing some innovative stuff in advertising, Harbour told Parade. "They had a funny and original idea in mind based on me and kind of what I do. It's almost like a great little indie film.
We couldn't agree more. Not only is this a genius idea on Tide's behalf, it's also a hilarious commercial people will have on the brain for weeks to come. I mean, it stars Chief Hopper. How could it not become instant water cooler conversation?
All we have to say is that, well, it's a Tide ad.