One "Stranger Things" character is getting a new 'do in Season 2, and we're *so* intrigued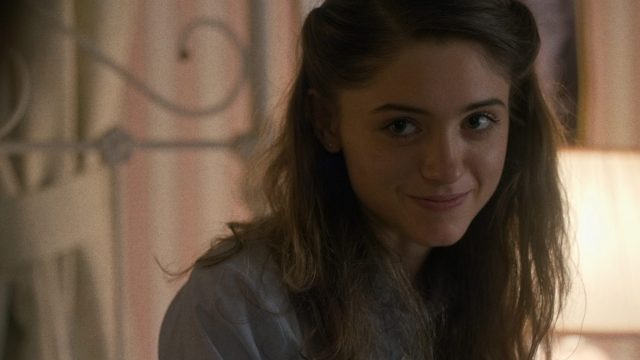 When we think of Stranger Things, we don't typically think of hairstyles – apart from Eleven's buzz cut, at least – but all that is about to change. You see, we've found out that Stranger Things season 2 gives Nancy drastic new hair, and we can't wait to see her new look. After all, Nancy doesn't get the credit she deserves; she truly becomes a badass in season 1.
Now a Golden Globe nominated show, Stranger Things is one of the best loved shows this year. Refinery 29 talked with the show's hairstylist Sarah Hindsgaul about how characters' hair will change in season 2. She teased a new look for Nancy Wheeler:
"All of the characters have developed. Nancy has kind of a big hair turn this year, too — they decided to do something drastic… That's all I can tell you."
Okay, so, that's super vague — and we want to know more. Another thing Hindsgaul said *might* provide clues to Nancy's dramatic new look, though:
"This year it is very different — we start stepping more into the '80s, which is kind of amazing, visually. Last year was '83 and this year is '84, and they're still in Hawkins, Indiana — but people are starting to realize there are perms and mullets, so we're using a lot of wigs this year, because no one wants perms and mullets.
It seems that Millie Bobby Brown will be among many actors in wigs now. (Though, maybe she doesn't wear a wig at all in season 2. We don't know much about Stranger Things season 2 yet.)
It sounds like even the extras will be getting new 'do's: "We find all our extras in Atlanta where we shoot. Last year it was really hard to get people to do anything, but this year a lot of people volunteered to have their hair cut off or to grow it out so we could give everyone the right haircuts."
That makes sense: people didn't know much about Stranger Things before it aired. So, they probably weren't as willing to change their look for it before it became a smash hit.
TBH, we can't wait to see mullets and perms aplenty in season 2. We also can't wait for Nancy's new hair. Will it be inspired by her evolution in season 1? Will it be one of those 80s classics, or something entirely different? We can't wait to find out more.