"Stranger Things" star belts out Amy Winehouse and She. Is. Incredible!
We hereby declare Netflix's just-released '80s horror throwback Stranger Things the Word of Mouth Show of the Year. If you haven't seen it, cancel all your plans straightaway and spend the next eight hours devouring ravenously. Believe the hype, it's all true.
It's near-impossible to choose a favorite character (Toothless Dustin! Mr. Clarke, the science teacher that is basically the 1983 version of Google. WINONA RYDER WINONA RYDER WINONA RYDER!), the list really goes on, but we feel pretty solid saying that one of the stand-out performances of the series is Eleven, a girl raised in a laboratory who boasts some pretty formidable powers.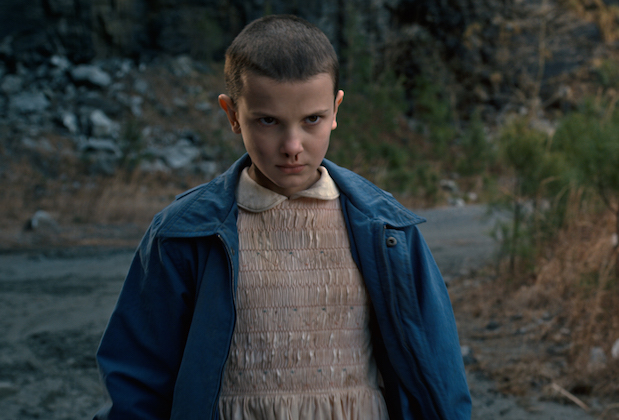 Part E.T., part Carrie, Eleven is equal parts adorably heart-melting and abjectly terrifying, the very definition of a girl who does not know her own strength. The largely-monosyllabic character (she does her acting with her EYES, you guys), is played by actress Millie Bobby Brown who, as her YouTube videos prove, is about as chatty as her character is terse. Also, though her character is born and raised in an Indiana laboratory, Millie is super-British IRL (well-played with that America accent, dollface!)
Another fun fact about Millie Bobby — the girl can SING. Though she doesn't get to demonstrate her pipes on the show (real talk, she barely speaks on the show), she belts out her faves like a demon on her YouTube channel. Here she is, in a pair of cute-as-heck specs, singing Amy Winehouse's "You Know I'm No Good." https://www.youtube.com/watch?v=NOfpUO_1L4c
If there is a second season of Stranger Things (pleasepleaseplease) and we do see a return of the elusive Eleven, maybe we'll get an '80s cover from her a la Will Byers spooky-pants rendition of "Should I Stay or Should I Go?" We fangirls can dream…