I went to an all-night "Stranger Things" binge event and lived to tell the tale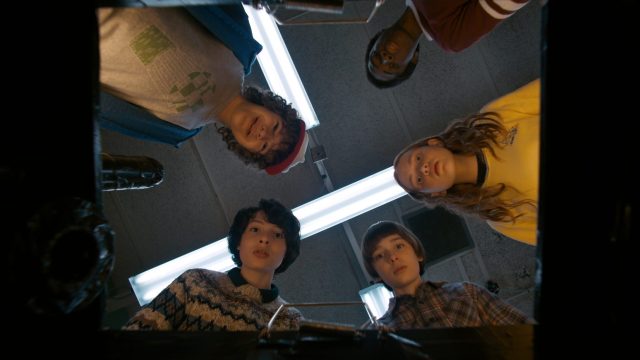 Editor's note: Hey, it's me, Rachel, HG's entertainment editor! For some ~strange~ reason, HG's assistant entertainment editor, Molly, willingly went to an all-night Stranger Things binge racing event. Why? ¯_(ツ)_/¯. When the email first landed in my inbox and I suggested it to Molly, she was like, "YEAH LET ME DO THIS." And over the past week I must have asked her, "Okay, but are you SURE about this?" roughly a thousand times. 
Molly was sure. Molly was going to pull an all-nighter and binge all nine episodes of Stranger Things Season 2 from 12 a.m. until 9 a.m. the next morning. Molly gets a gold medal for commitment to the binge. 
And now, just like Will Byers in Season 1 of Stranger Things, Molly has now disappeared — I assume she's sleeping somewhere, but can we really be sure? Before she went MIA, she managed to send me this email, documenting her overnight adventure. What follows is the recovered transcript from her time in the Upside Down, aka hanging out in a theater with 100+ other Stranger Things fans also committed to watching TV all night. 
---
11:09
p.m.:
I've arrived and I tried to nap earlier but that didn't go well. I couldn't sleep because I was thinking about my Halloween costume, so LET'S SEE HOW THIS GOES. 11:13 p.m.: There are lots of people in costume. I've already spotted Hopper, Barb, and Eleven. 11:15p.m.: There's a DJ playing super groovy tunes that I would totally dance to but I won't, because I'm conserving that energy. 11:33 p.m.: There's an arcade and once again, I remind myself that this is not where I thrive. I am no MadMax. 11:40p.m.: I haven't even started the binge race yet, but I already got the action figure treatment.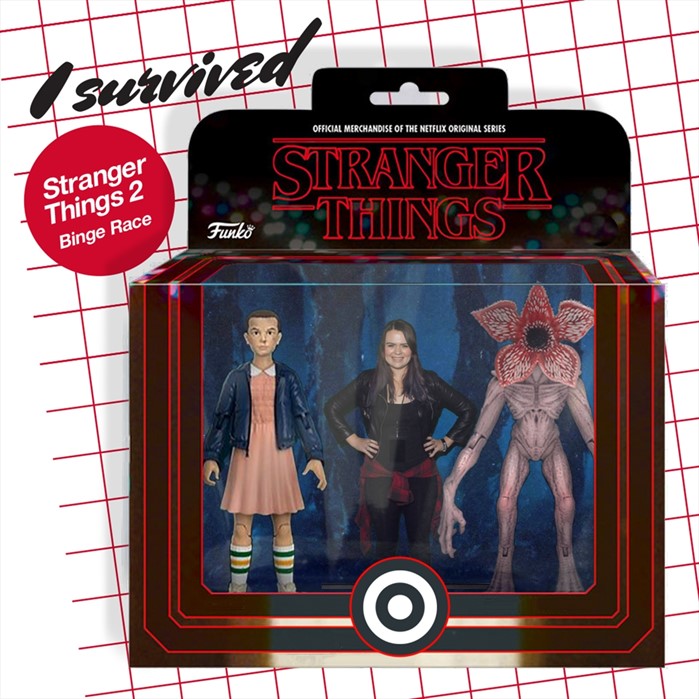 11:42 p.m.: I also nearly got hit by a Hawkins power and light van. It's been a really eventful 2 minutes.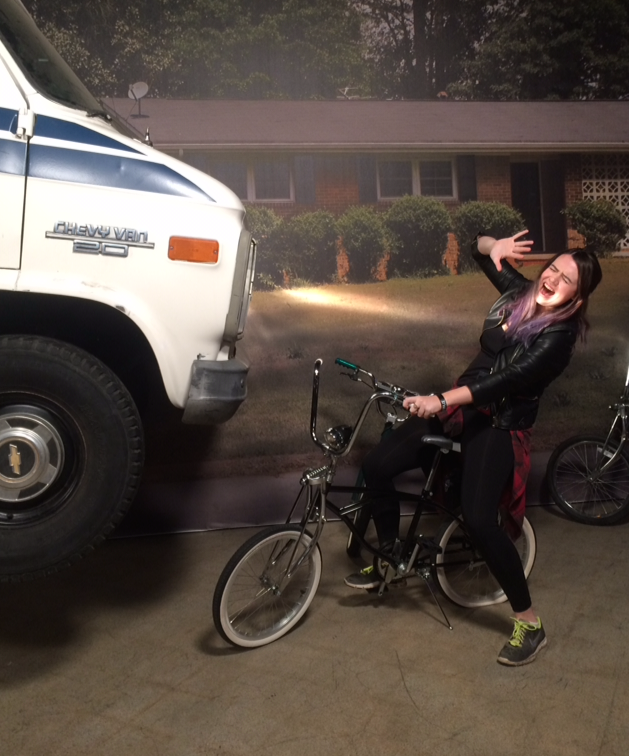 11:46 p.m.: There's a bar here and usually I would be like YAS WINE, but instead I'm like NO, HOLDING OUT FOR THE 5 HOUR ENERGIES IN MY PURSE. 11:53p.m.: We've made our way into the theater, and it looks cool AF. It's decorated with vines, with retro-looking Stranger Things posters sprinkled throughout. 11:56p.m.: Shannon Purser wishes us luck in a video message, so basically #BARBLIVES. 12:01a.m.: OKAY, HERE WE GO. Season 2, Episode 1… 12:21a.m.: My first yawn. 12:26a.m.: I can't stop yawning now that I'm thinking about it. 12:45a.m.: One episode down, eight more to go. A video message pops up and Millie Bobby Brown encourages us (one of a few messages from her and Noah Schnapp). And like, if Eleven believes in us, then I believe in us. 12:46a.m.: Legooooo Episode 2! 1:38a.m.: Now Episode 3! 1:47a.m.: I could use snacks to perk up right about now, but don't want to get up. Because I'm ~living~ for the drama.
2:23a.m.: I definitely fell asleep for IDK how long but woke up to some messed up stuff happening to Will, and LEAVE WILL ALONE. 2:26a.m.: We take some time to reset (aka get snacks). 2:45a.m.: I picked up some Target swag and feel like a Hawkins fashion icon. 2:48a.m.: The emcee asks if people fell asleep and a couple people admit that they did. I am not alone. 2:50a.m.: I eat a grilled cheese that's giving me LIFE. I know it's not the best grilled cheese I've ever had but it feels that way, because sustenance. I'm feeling more awake and ready to watch Episode 4. 2:54a.m.: Someone yells "Bring back Barb," because unlike the character, this fan love is forever. 3:36a.m.: And speaking of, we get another encouraging video message from Purser when the episode ends. 4:31a.m.: Episode 6 begins, but not before an "Are you still watching?" message pops up. I honestly can't believe I'm still awake right now. I don't want to flatter myself too much, but I may or may not be a binge queen. It's like, once you get over the hump of a normal late night, like later than if you stayed out particularly late for a weekend, you sort of get used to it. 5:10a.m.: Spoke too soon because I fell asleep again, but then some Demogorgon-esque nonsense caught my attention — and there's a lot more where that came from. 5:30a.m.: We break after the episode and I head straight for the COFFEE. And let me just point out that I have not taken, and did not end up using, my 5 Hour Energies. Adrenaline, baby. Purrreeee adrenaline. 5:35a.m.: I discover the candy section and Fun Dip has now surpassed my love for the aforementioned grilled cheese. 6:16a.m.: I can't tell you when Episode 7 started exactly, because my eyes started to do that thing when you know you're looking at something but aren't *really* seeing anything. But this is when Episode 8 kicked off. 6:37a.m.: People hadn't been particularly vocal or active throughout the night because, hello, it was the middle of the night and early morning. But in this penultimate episode, they were. And I don't want to tell you why because #SPOILERS, but shit got cray. 7:06a.m.: THE SEASON FINALE AIRS AND WHEN IT ENDS, IT'S MET WITH APPLAUSE AND I THINK A BIT OF RELIEF. 8:03a.m.: Us binge racers walk out of the theater, having watched 9 episodes of TV. I knew it would be sunny out, but it was harsh facing daylight. We'd been in total darkness for so long! I felt like a vampire. 8:05a.m.: We were awarded with medals because, yes, we were CHAMPS. And we took a group photo, because who doesn't want to document how they look after not sleeping all night, am I right?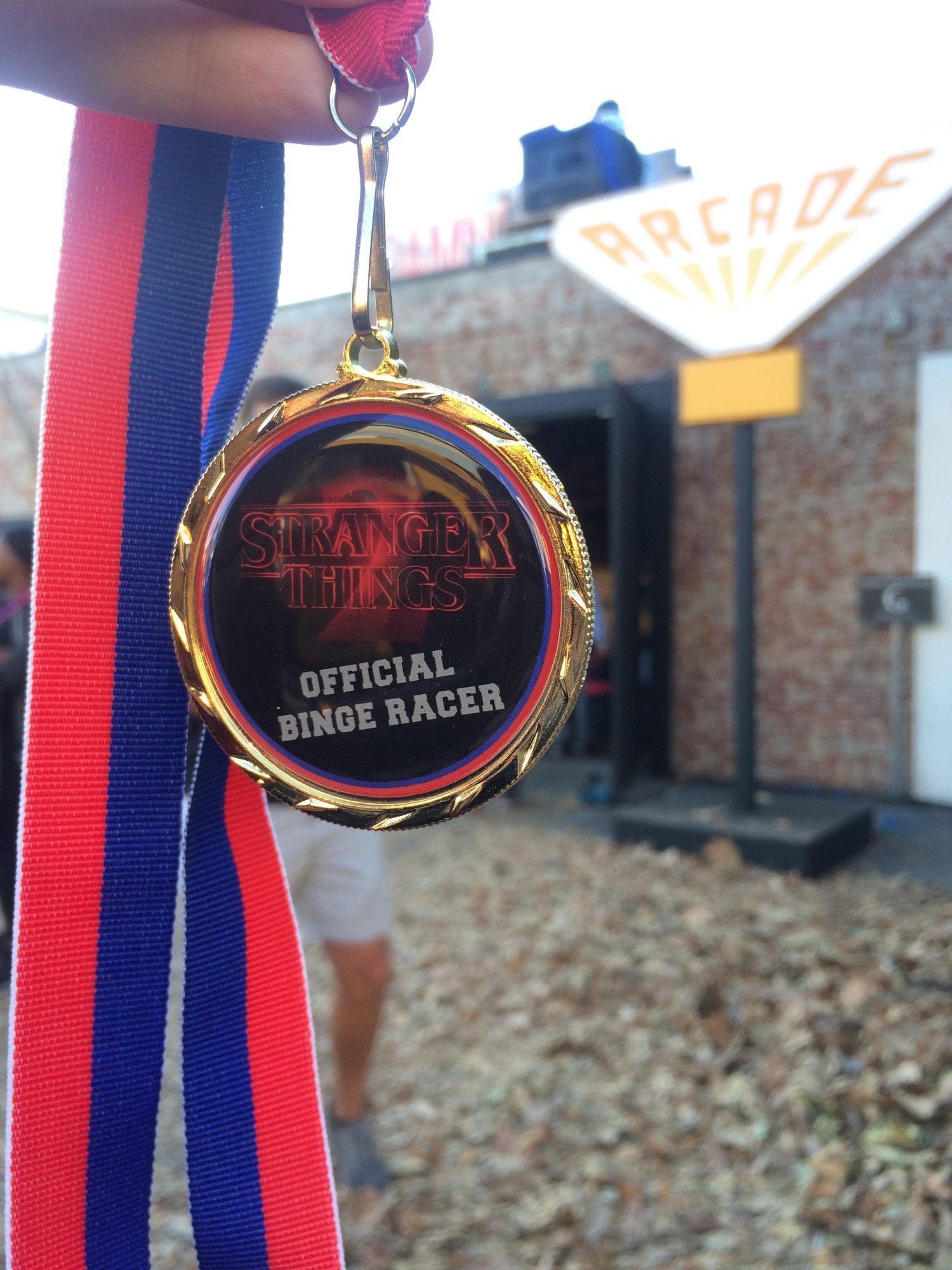 8:06
a.m.: 
Linnea Berthelsen dropped by to congratulate us on our big accomplishment. Which I think we should all put on our LinkedIn. ENDORSE US, PEOPLE.
8:07
a.m.: 
And speaking of champs, binge racers were treated to the Stranger Things breakfast of champions…Eggo waffles, of course. 8:10 a.m.: The sleepiness really starts to hit me. I'm talking to people, but what am I even saying? I find myself thinking about "Valjean's Soliloquy" from Les Miserables when he says "What have I done? Sweet Jesus what have I done?" But then I'm like nah, that was worth it for the experience.