Netflix released a video of cats watching THAT Mews scene in "Stranger Things"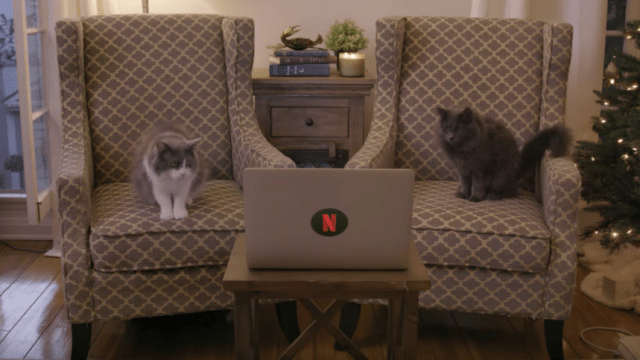 One of the most horrifying moments of Stranger Things Season 2 was Dustin's discovery that his new buddy Dart had evolved into a Demogorgon-like creature. On top of being slimy, large, and in charge, Dart was hungry, and ate the first thing he could find. This was bad news for pet lovers. As it turns out, it was even worse news for pets themselves!
You know, the one where Dustin looks for Dart, only to discover that Dart had straight-up eaten Dustin's family cat Mews as a snack. The streaming service jokingly played the minute-long scene for its employees' cats, to get a real-life reaction from the wronged party. As it turns out, cats pretty much felt the same way about it as you did.
Watching a bunch of adorable kitties bearing witness to the gobbling up of an innocent cat comrade? And you thought watching what happened to Mews was heartbreaking…
One question for Netflix: How did they get all of those cats to behave? Whenever we try to put a roomful of fully grown cats together, they always try to go full Demogorgon on us. Not even Demodogs — er, Democats! Full-on Demogorgon. Anyway, take a look at cats being forced to sit through the terrible fate of Dustin's furry friend.
https://www.youtube.com/watch?v=cs2mKXqQUOY?feature=oembed
Thanks a lot, Netflix! Although, on second thought, it is funny. (Sorry, cats around the world!)