Let's talk about the scary way your straightener could be ruining your hair color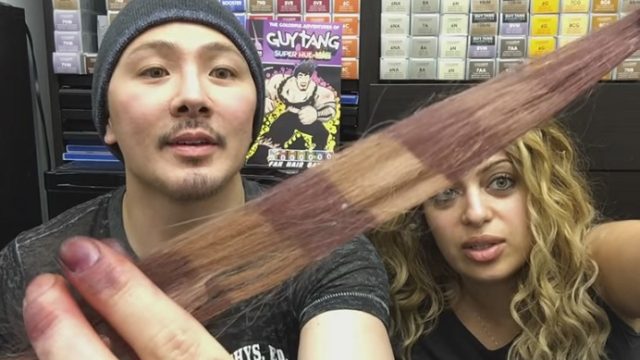 For anyone who's dyed their hair before know that the color usually doesn't last forever, or certainly not as vibrant. Dyed hair is prone to fading, and while you can blame the fact some dyes aren't permanent, there's also a secret culprit you need to know about: Your flat iron.
Guy Tang, an LA-based celebrity colorist known for his amazing color transformations, made a video with his hair BFF to demonstrate just how damaging a straightener is to non-traditional hair colors. In the video, he smoothes a flat iron over a swatch of pre-dyed hair. As soon as he removes the styling tool, you can instantly see damage. The scariest part is just how fast it occurs — Tang's demonstrations shows it can happen in mere seconds.
To be fair, there's no way of knowing if Tang used real human hair or synthetic hair. However, the result is clear. When it comes to colored hair, high heat is no one's friend. To further drive his point home, Tang argues that most of us don't even cook our food in the oven at 400 degrees, so why in the world would we do that to our hair?
It's not just styling tools. Heat in general is bad for hair. Taking a hot shower or shampooing your hair with hot water can also cause your color to bleed out faster. Fortunately, all is not lost. You don't have to completely give up your hair tools or your hot showers. Most flat irons, hair dryers, and curling wands have adjustable temperatures, and just because they can go as high as 400 degrees doesn't mean you should use them at that temperature. If you take a hot shower, be sure to keep your hair covered with a shower cap.
A few other things to keep in mind when it comes to color longevity: After your initial dye job, wait as long as possible to shampoo your hair. When you do shampoo it, use a sulfate-free shampoo and rinse with cool or tepid water. Go as long as possible between shampoos as well — this is when dry shampoo should definitely become your new best friend. You can watch Guy's video below to learn more about how to correctly use your flat iron (and other heating tools) on your colored hair.
*