OMG: Storybook Cosmetics might be coming out with "Star Wars"-themed makeup brushes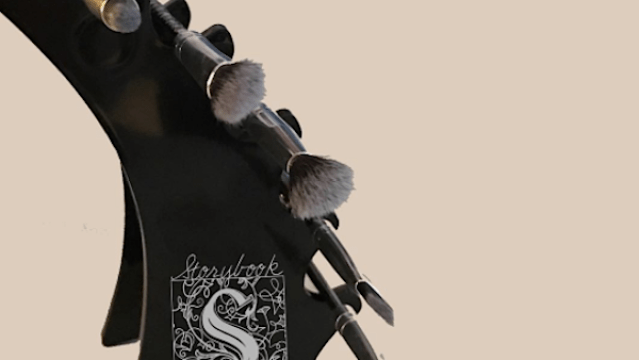 Storybook Cosmetics really knows how to win our hearts. First, with their epic Harry Potter-themed products, and now we're hearing talk of possible Star Wars makeup brushes! Needless to say, we are obsessed with this idea. There is something so magical when fandoms and beauty products collide. It is a powerful message that geeking out is no longer just a boys' club. Women fans are as present as ever, and demanding products and merchandise that caters to them.
Storybook took to Instagram to show us the mock-up plans for the lightsaber-style brushes.
The proposed designs include both a blue Jedi lightsaber and a red Sith Kylo Ren-inspired cross lightsaber.
According to the caption, it is up to licensing with Disney and Star Wars to give Storybook the green light needed to lightspeed into production. Our fingers are crossed, but in the past year there have been a number of Star Wars-approved licenses for companies such as Target and Covergirl. (We couldn't get enough of those Star Wars-inspired lipsticks!)
Disney knows what the people want — more Star Wars everything, and it gives us ~a new hope~ that these Storybook Cosmetics makeup brushes will be a real thing!
https://www.instagram.com/p/BOA6-RUBc0k
Here's hoping that our favorite fairytale makeup company can get the license to Star Wars! What better way to celebrate the release of a new movie from the franchise every year? This gets us even more excited that Rogue One: A Star Wars Story hits theaters tonight!
Jedi or Sith —what side are you on?