Storybook Cosmetics shared a sneak peek of their Bullseye brushes, and we can't wait to get our hands on it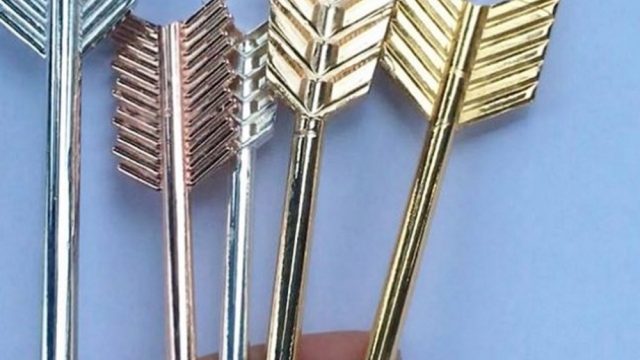 Since our last gold and glittery update of Storybook Cosmetics' much anticipated BullsEye brush set, there has been a burning question on our minds — What about the other colored arrows in the mockup design? All of our questions have been answered as the company posted not one, but FIVE different color finishes for the very amazing arrow-inspired handled brushes. The bullseye brushes range from gilded glitter to metallic gold to silver, baby blue, and rose gold.
The brand's followers can't help but feel that brushes have sparked inspiration from Robin Hood to Merida from Brave to Katniss Everdeen from The Hunger Games. We totally see it!
While the caption taunts us with the cold hard fact that these babies won't be quite in our bows (we mean hands) yet, the brand gave us a possible time frame from late winter to early spring. Let's hope the groundhog doesn't see his shadow!
Storybook is expanding their team and we hope this means we are getting closer to launches!
While we still haven't seen the brown leather quiver holder meant for the arrow brushes, Storybook sure knows how to teach us about the rewards of patience when it comes to a product launch! We also hope to get an update on the five brush tips from the precision set!
The bullseye brushes look amazing! Even if our only archery experience is with our brows, we can't wait to get our hands on this set!