Storybook Cosmetics could be releasing a Care Bears-themed product, and our nostalgic hearts are fluttering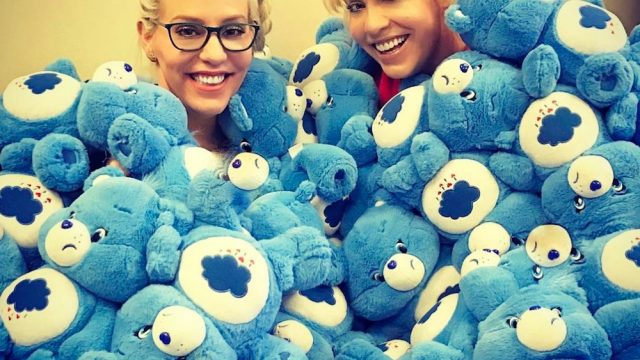 If you aren't already following Storybook Cosmetics on Instagram then you probably should, especially since the brand teases new fandom-inspired products on the regular, including a mysterious post that has us thinking Storybook Cosmetics is coming out with a Care Bears-themed product.
And aside from their Harry Potter and Charlie And The Chocolate Factory palette (coming this summer!) collabs, the brand is giving us major hints that a Care Bears-themed product is in the works.
The possible Care Bears collaboration first started being teased in May, when two of the Maynard sisters took a selfie in front of what we're thinking probably was the Care Bears HQ. Of course, at that point we were intrigued, especially because we couldn't get our mind off of the potential brush and eyeshadow ideas Storybook Cosmetics could possibly come up with.
Then, as the month went on, the Care Bears convo was back on the table, as the Storybook Cosmetics brand Instagrammed three gorgeous shadow shades we couldn't stop drooling over.
And finally today, two of the Maynard sisters snapped another Care Bears HQ selfie with a caption:
"Had a second date with our friends at @Carebears...I think it's getting pretty serious.
Now that it's finally in the open, we are more than pumped at what the Maynard sisters could possibly come up with. Aside from hoping for high pigmented eyeshadow palettes and rainbow colored makeup brushes, we're hoping that we finally get some Care Bears liquid lipsticks that the brand has been talking about. Seriously, a Grumpy Bear blue shade would be the best thing ever.