Reminder: Storybook Cosmetics' new limited-edition brush sets are launching tomorrow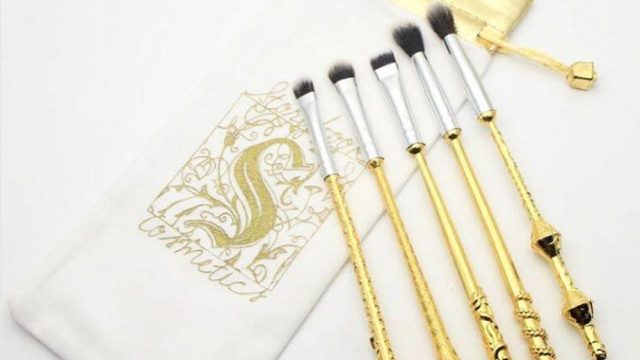 No one does romantic, nostalgia-based beauty quite like the minds at Storybook Cosmetics — their gold brush sets launch tomorrow and is only further proof of their genius! If you're someone who loves all things wizard and witchcraft, then these are going to be right up your alley. The rose-gold and gold eyeshadow brush sets are shaped like wizard wands, so you'll feel like your favorite magical character every time you get ready!
The sets are EXTREMELY limited-edition, and we expect that like pretty much all of Storybook Cosmetics' stunning products that they'll sell out fast. Nothing inspires shopping quite like some otherworldly beauty products, does it? We have to have them!
The Storybook Cosmetics' Gold and Rose Gold Wizard Wands eyeshadow brushes will be available tomorrow, April 28th, at 12 p.m., CST.
There is a limit of three brush sets per order, which makes sense since they only release these three times a year in very small batches.
https://www.instagram.com/p/BTB_AlLgWhN
How will we pick between the regular gold and the rose gold? Both sets are beautiful and unique.
The Wizard Wand eyeshadow brushes will be available for $55, each.
https://www.instagram.com/p/BTBs5sgAMTo
Those brushes look as fluffy and soft as can be!
What is it about Storybook Cosmetics that just knows how to tap into our wildest and deepest beauty fantasies to create products that will transport us to another era? They take their inspiration from all over the storybook world, and yet each release is pitch perfect and appeals broadly to makeup lovers. They know their stuff!
Head on over to Storybook Cosmetics tomorrow afternoon to pick up a few of these gorgeous, ethereal brushes for yourself. You'll feel positively magical every time you use them, and you can't beat that!