Storybook Cosmetics is coming out with a quill and ink liner duo that will make you feel like royalty
There really isn't a more apt name for Storybook Cosmetics — their dreamy and romantic products are a throwback to fairy tales and are beautifully packaged and deeply imaginative. Their latest is the perfect addition to their products, with a quill and ink liner duo that will make us feel like we are popping straight out of King Louis XIV's royal court!
Coming in early 2017, the liner is a gorgeous take on a classic liquid or pot liner that will be a beautiful addition to anyone's makeup drawer! How insane is that packaging? We love when brands push the boundaries of how even the most traditional of products, i.e. liner, can be produced in a creative and completely innovative way!
How spectacular is this beautiful creation?
Our friends at Storybook seem to know exactly how to inspire whimsy and magic in every day beauty products!
They even gave us a sneak peek of the end of the quill itself and asked for feedback on the product!
It looks like they might still be fine tuning it before its official release! We love that they're asking for feedback, and you better believe that their followers had plenty to say about it!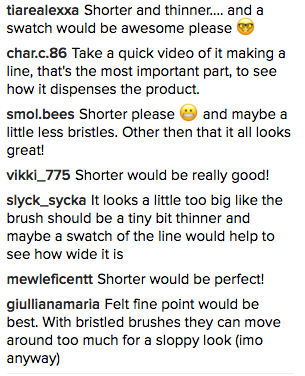 Do you agree? Either way, we can't wait to see what they come out with IRL and get our little hands on it as soon as we can.
We can't help it if we want to feel like little birds helped us get ready, and we'll take anything that will help us feel a bit more ethereal!
Keep your eyes peeled on Storybook's site for when this beauty might hit the streets! It's gonna be a special one!