This is everything we are expecting Storybook Cosmetics to come out with in 2017 so far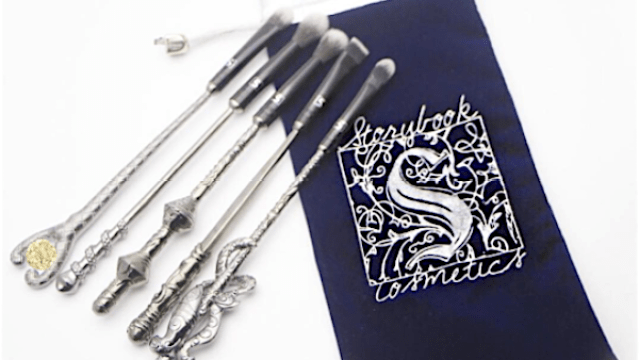 Once upon a time, three identical sisters knew exactly how to steal the hearts of every makeup and literature lover in all the land. Triplets Mandy, Missy, and Erin are those sisters and they have worked their spell on us with Storybook Cosmetics. You know the feeling when you are nose-deep in a book, eager to get to the end? That is how Storybook Cosmetics has us feeling! 2017 is going to be an even bigger year for them, based on the sneak peeks they give us on Instagram.
The wizards of the makeup world burst on to the scene early this year with magical-themed eyeshadows and wand-handled brushes that would make even Hermione Granger drop coin. Storybook has hinted at two more huge releases — both their Bullseye Brush Set and a quill and ink eyeliner pot set. They are also releasing a new version of wand brushes with silver handles!
Storybook Cosmetics wrote on their website:
"We're busy creating a full-line of products at Storybook Cosmetics™ including exclusive eye-shadow book palettes, liquid eyeliners, lipsticks and a brand new set of make-up brushes all inspired by our favorite stories!"
And now, here is everything coming from Storybook Cosmetics in 2017, as well as unconfirmed releases we are crossing our fingers for!
1. The Witchcraft & Wizardry Eyeshadow Palette
These high-pigment shadows have left us spellbound, and they'll come in a cute book palette!
Just LOOK at these swatches.
2. The Bullseye Brush Set
Absolutely perf for the makeup-loving Katniss fan.
3. The Quill and Ink Liner Duo
The quill and ink set is one of the first chapters that will be released in 2017. We are so ready. Our fate is sealed.
This ink set is writing love letters to our hearts.
4. The New Storybook Cosmetics Wizard Wand Brush Set
These redesigned silver-handled wand brushes are amazing!
5. Genre-based Liquid Lippies
We need "Adventure" in our lives, ASAP!
6. The Wizard of Oz palette
The yellow brick road background is so clever.
7. The Romeo and Juliet palette
The brand says both Wizard of Oz and Romeo and Juliet are in pre-production and they can't wait to show us real product. WE CAN'T EITHER.
8. A Cool Brush Holder
Storybook says this is a prototype and it will probably change. What will the finished design be?!
And now for the unconfirmed products that we fawned over this year…
9. The Mean Girls palette
https://www.instagram.com/p/BLedOpoBbfI
We haven't heard anything else about this hot pink palette since they first released this fantasy photo, but we're still crossing our fingers!
10. Star Wars-themed brushes
https://www.instagram.com/p/BOA6-RUBc0k
We need The Force to help us with our makeup.
We don't have any release dates for anything yet, but we support the triplets on their venture into making makeup even more magical.