Storybook Cosmetics' "Charlie and the Chocolate Factory" eyeshadow shades are deliciously sweet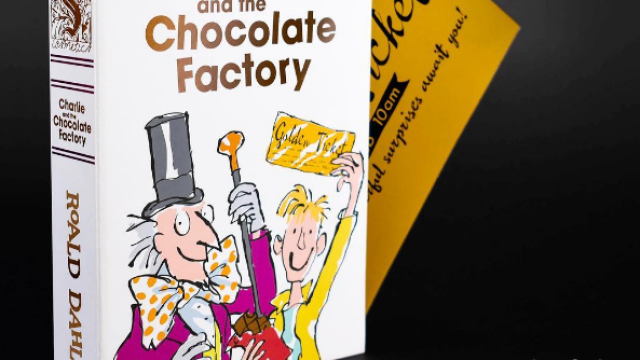 We have been waiting months for a sneak peek of the Storybook Cosmetics Charlie and the Chocolate Factory eyeshadow shades, and the time for us has finally arrived. Since spring we've been gawking at everything from the richly illustrated packaging for the Charlie and the Chocolate Factory palette to the sneak peek of the first eyeshadow shade (a shimmery, gorgeous, golden dream).
But now, we are finally blessed with a full look at all 12 of the shades in the Charlie and the Chocolate Factory palette, and unsurprisingly, all of the colors look good enough to eat. Although, since we'd rather not fall into a fatal chocolate river, we'll stick to applying them as makeup.
Before we set our eyes on the palette, let's have another look at the wonderfully illustrated packaging.
We don't know if Roald Dahl was into cosmetics, but we know he loved a good drawing.
The 12 colors look like they were swatched directly out of Willy Wonka's factory, so there's a great variety.
There are even shades named after the main children from the book, Charlie Bucket (a snowy white), Augustus Gloop (a caramel tan), Veruca Salt (salt-colored), Violet Beauregarde (a glittery violet), Mike Teavee (a sky blue) and of course, Willy Wonka himself (a glittery grape). There's also an Oompa-Loompa shade (peach), Snozzberries (red-orange), Wonka Bar (chocolate), Golden Ticket (golden, duh), Everlasting Gobstopper (a powder pink), and Fizzy Lifting Drink (a bright yellow gold).
The precise release date is still under wraps, but it's coming soon!
Hopefully sooner than later, because these swatches are delightful.
Now we'll be dreaming of Willy Wonka's factory and all the makeup inside of it.