Baby Stormi said "Dada," and Travis Scott's reaction will melt your heart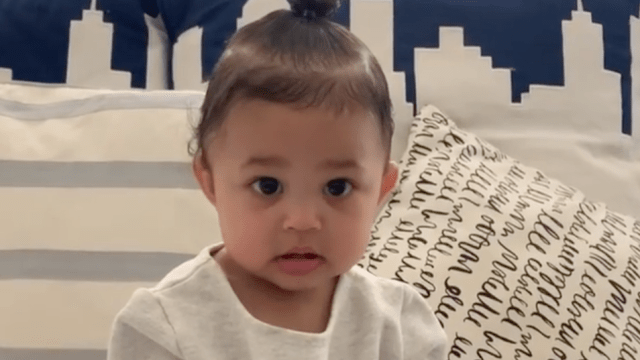 It's hard to believe that Miss Stormi Webster is almost a 1 year old, but she's already hit a major milestone. In a new video that mom Kylie Jenner shared on Instagram over the weekend, Stormi said "Dada" and obviously, Travis Scott just had to leave an adorable comment.
It all started when Jenner was trying to teach Stormi to say "Kylie Cosmetics" (can't blame mama Ky for introducing her little one to the family business sooner rather than later). As you can probably imagine, it wasn't going all that well—that's a mouthful for any baby to say, let alone someone who's new to this whole talking thing.
Instead of repeating after Jenner, Stormi was mostly just babbling…and then, she slipped a "Dada" in there like it was no big deal.
"Dada?!" Jenner said in surprise, which elicited a truly adorable giggle from Stormi.
And as the Comments by Celebs Instagram account pointed out, Scott couldn't help but respond. "Da da," he wrote. "I'm otw back momma."
Seriously, who wouldn't want to hurry back to a baby that cute?
Over the weekend, Jenner was just full of quality Stormi content, even when you don't count this video. Since Scott was performing at his Astroworld Fest concert, Jenner shared some precious pics of him with their daughter, and Stormi looked happy as can be with her daddy.
"Only the people around you really know how hard you work," Jenner wrote in her caption. "I love to watch you make all your dreams come true. Your first festival. We're so proud of you. We love you."
https://www.instagram.com/p/BqT6d3QHvkI
Jenner also shared a photo of herself and Stormi together, grinning at each other as they stood in front of a mirror.
https://www.instagram.com/p/BqVQfMqH35C
We're in love with this happy family, and now that Stormi's talking, we can't wait to hear what words she comes out with next. Maybe she'll say "Kylie Cosmetics" sooner than we think?