No closet? No problem! Behold, the 8 most creative ways to store your clothes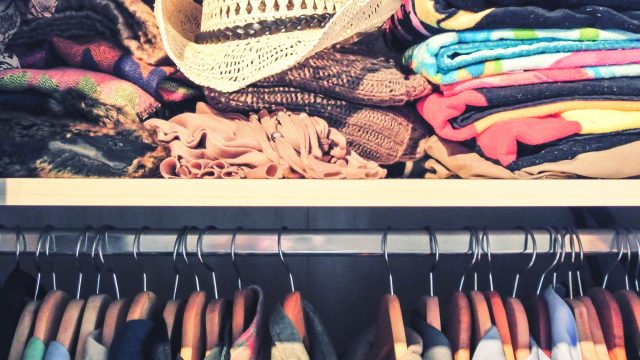 It's impossible to scroll through Pinterest without coming up with about a million different things you want to make, buy, and build for your home space, but sometimes, the ideas people share on the site can actually be really practical when it comes to storing things. If you're one of the unlucky people who doesn't have a closet in your apartment, don't worry, because Pinterest is totally coming to your rescue with tons of no-closet ideas. There are many creative ways to store your clothes that don't require a closet at all. In fact, you might even like these ideas better than a closet.
According to Pinterest's 2018 Home Report, pinners are searching for open closet ideas 126% more than they were in 2017. Whether that means apartments are getting smaller or people are just getting more creative, we're happy to see these practical ideas flourishing.
Of course, having your stuff out in the open does require a bit more tidiness, since it's not like there's a door to close (unless you don't mind looking at a mess). But remembering to put your laundry in its place is a small price to pay for these gorgeous open closets, because they can totally add to the aesthetic of your room — especially with the help of a little IKEA furniture.
Here are some of the best clothing storage ideas that Pinterest has to offer. Maybe one of these no-closet ideas will speak to you?
1. This classy closet
All this requires is grabbing some closet shelves and drawers from Home Depot and arranging them in a way that makes sense for your bedroom. This can work in even the smallest of spacces.
2. A clothing headboard
This not only looks really cool, but it's super functional, too. Just make sure you leave room behind your bed to get at the clothes you need.
3. Small and simple
If you're into that minimalist life, you're going to love this. Just hang your closet's staples on a garment rack, and you'd be amazed at what a few shelves and baskets can do for the rest.
4. When you've got a lot to store
This can be recreated easily with the IKEA Expedit shelving system, and the storage cubes leave so many possibilities. Whether you use baskets or not, it'll be organizational heaven.
5. Tons of shelves
Floating ledge shelves can help you transform a corner of your bedroom into the perfect place to store your clothes and shoes. Add a couple of tension rods, and you're all set to hang anything that can't be folded.
6. A simple set of garment racks
Does it get any easier than this?
7. A combination of tools
Shelves, garment racks, hooks — this has everything you could possibly need, and using a decorative bookcase like this one just adds to the charm.
8. Add a curtain
If you can't guarantee keeping things neat — or if you want a little privacy for your things — it's easy to install a tension rod and curtain in front of your setup. Instant closet!
Feeling inspired yet? No matter how messy things start out, if one of these open closets is the goal, it'll definitely be worth it.