Why banning mirrors in the fitting room is not a strange idea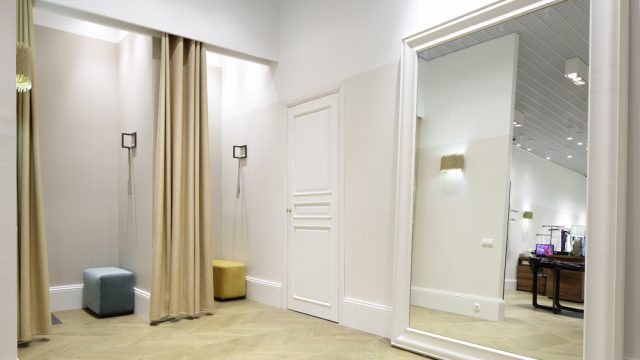 What's the first thing you do when you try on clothes in a store? Look in the mirror, right? Check out all the angles, how the color looks with your skin tone, how the fabric skims over your body shape, to decide if it looks "good" by whatever definition you're using today.
And if you don't like what you see in the mirror, because of body image insecurities or bad lighting or a lunch that left you bloated or an uncomfortably close-up view of the zit that's been growing in the center of your forehead since yesterday? Well, we all know that's one of the quickest way to ruin your day.
Which is why one prominent clothing chain in the UK has decided to remove all mirrors from their stores, the UK's Telegraph reported. Hammerson, a major clothing retailer, recently announced they were banning mirrors in select stores as a trial run to boost shoppers' confidence — and sales. According to their research, 71% of female shoppers were "put off" buying clothes after looking in a fitting room mirror, and over half of them feel worse after looking in the mirror — proof that body confidence really is a critical issue.
Hammerson is banking on women not needing mirrors to make their shopping decisions and relying on the opinions of friends and salesclerks, while also focusing more on how they FEEL in a garment than how they LOOK in it. "We hope that women in particular will try something on and feel gorgeous and glamorous," says the store's regional marketing manager. "Hopefully this will be a success and we can roll it out across our [stores] for the summer."
It's certainly a fascinating experiment to try banning mirrors and we're curious to see how it pans out. Could this be the first glimpse of the future of shopping — could we be heading toward malls without mirrors? Homes without mirrors? A world without mirrors? We can't help but wonder how much we would miss them…