Stop what you're doing and turn up your speakers because Drake just dropped new music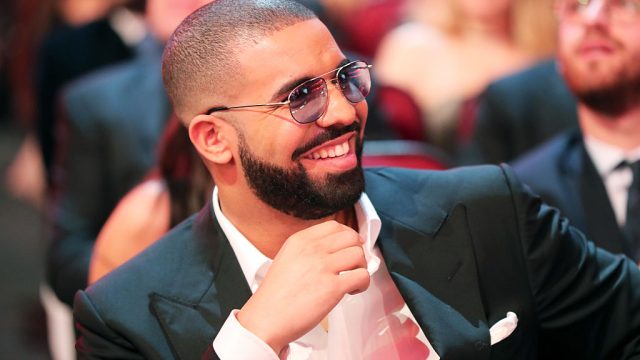 Aside from Queen Bey, Drake might be the one artist these days who really knows how to hype a new music release. Last October, the rapper teased the release of new tunes, but it wasn't until Saturday that Drake finally released his new project, More Life. It was sort of excruciating waiting, since Drizzy teased his fans with three tracks over the course of the past few months, offering up "Sneakin'," featuring 21 Savage, "Fake Love," and "Two Birds, One Stone," which is a bit of a diss track aimed at Pusha T and Kid Cudi.
The project was supposed to start streaming on OVO Sound Radio (via Apple Beats 1) on Saturday at 6 p.m. ET, but there was a bit of a delay.
Twitter was not happy.
false false
Eventually, a half hour late, it started. Drake phoned in a message from London, thanking everyone for waiting (and ordering shots for the people who were with him). And it was totally worth the wait. The "playlist," as Drake is calling it, starts with "Free Smoke," a song that includes shoutouts to J.Lo and Applebee's. How could this be a bad project when it starts off like that? Later on, he samples J.Lo's "If You Had My Love" in his "Teenage Fever." Yea, it's that good.
Drake explained the playlist concept to DJ Semtex in an interview in February, saying, "The style in which it's being put together is based on the concept of OVO Sound Radio. It's almost like a radio show."
He added,
"I basically asked myself 'What if I did it like OVO Sound Radio but every song was a new Drake song?' It's more like an evolution of a mixtape. After Views, I was inspired and I wanted to keep the music going and get people inspired."
After a lot of teasing with Instagram posts and other veiled social media hints (Drake fans are the best for catching them all), the final drop on OVO Sound Radio and Apple Music on Saturday happened, and you can hear the whole album on OVO Radio (it's episode 39). Unlike Views, which was only available through Apple Music for WAY TOO LONG, you can also hear More Life on Spotify and Amazon Music, according to Fader.
The 25 tracks are everything you've come to love and respect about Drake (please see "Get It Together" with Black Coffee and Jorja Smith). But we'll let you be the judge of this long-awaited project. Love him or hate him, you better brush up on More Life, because summer is just around the corner, and the whole album, er, PLAYLIST, is bound to be blasting from every car, roof, and someone's earbuds standing next to you in Starbucks all season.