Opinion: Stop trying to make Melania Trump happen
Author Michael Arceneaux on why he finds the media narratives portraying Melania Trump as "subversive" to be so dangerous.
On June 24th, during a speech made at a conference for the organization Students Against Destructive Decisions (SADD), First Lady Melania Trump made another one of her peculiar proclamations: "Kindness, compassion, and positivity are very important traits in life. It is far easier to say nothing than it is to speak words of kindness. It is easier to judge quickly than to take time to understand."
The remarks are laughable for many reasons, but mostly because of the tragic irony that, for all of Melania's empty words about the power of kindness, she is married to a racist, sexist, xenophobic demagogue, one who spends much of his time berating marginalized people and political foes to the delight of American voters who are resentful and contemptuous towards those who don't look like them. Then there are Melania's own recent actions to consider: Mere days prior to these remarks, she made national headlines for boarding a plane from Joint Base Andrews wearing a jacket that read "I REALLY DON'T CARE, DO U?" after visiting children separated from their families at the border thanks to her husband.
Melania Trump's spokeswoman claims there was "no hidden message" behind the jacket, although President Trump would go on to say it was a shot directed at the "fake news" media. There is no way that Melania Trump, a former model quite familiar with the importance of fashion, did not realize the impact that $39 jacket from Zara would make.
And while some journalists have looked at the controversy as a "distraction" and urge that there are "more important" matters to focus on, that ultimately lets Melania Trump off the hook yet again.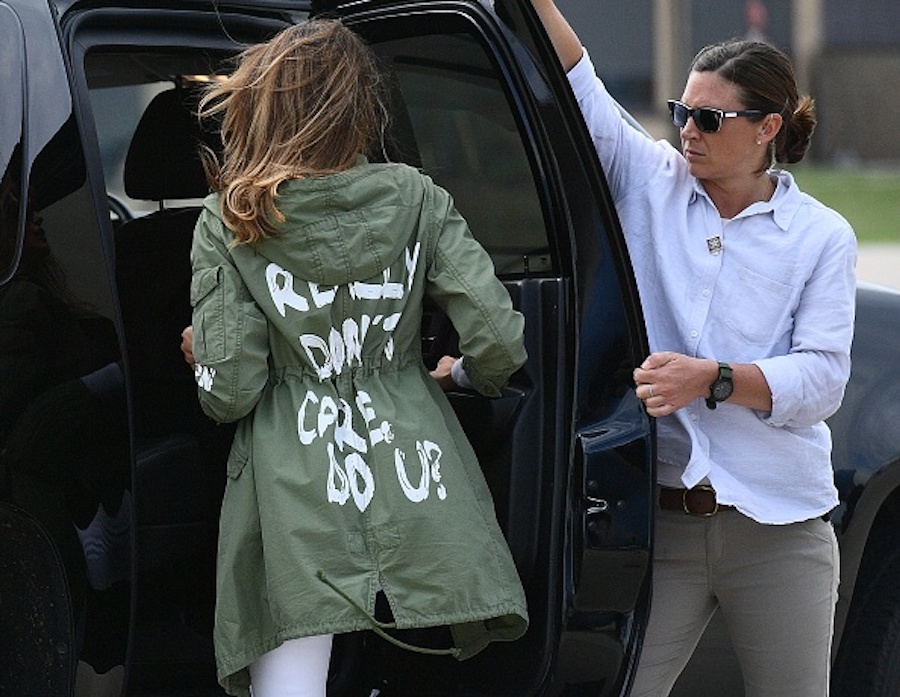 The Trump administration thrives on spectacle, distraction, chaos, bigotry, and idiocy. It is overwhelming in its unique ability to churn out headlines every hour on the hour. Even so, you can care about the fate of some 2000-plus migrant children currently caged in detention centers and still condemn the president's wife for essentially pulling a Marie Antoinette.
Melania Trump may not say much, but whenever she does, her statements are often needlessly lauded. Indeed, after she released a rare public statement in which she said she "hates to see families" separated at the border, Melania was practically leading the resistance from inside the White House if you let some outlets tell it. But she did nothing of the sort, and that jacket was proof that, more often than not, Melania doesn't care and she's willing to rub her husband's cruelty in our faces — and it doesn't matter if she does so with more subtlety than he does.
It's as if people forget Melania is the same woman who, years ago, helped spread Donald Trump's racist theory that President Obama was not born in the United States.
In response to her jacket choice and previous statement about family separations, people like Van Jones defended Melania by telling CNN's Chris Cuomo, "You've got to give some kudos to the fact that she did stand up to her own husband, she did tweet about it, she did go down there. Maybe she should wear something different, but I wish more people in her position would stick up for these kids." Jones previously defended Melania Trump's first foray into cyberbullying advocacy, once again saluting her purported "bravery" while she displays a disturbing ability to talk about the importance of kindness with a straight face.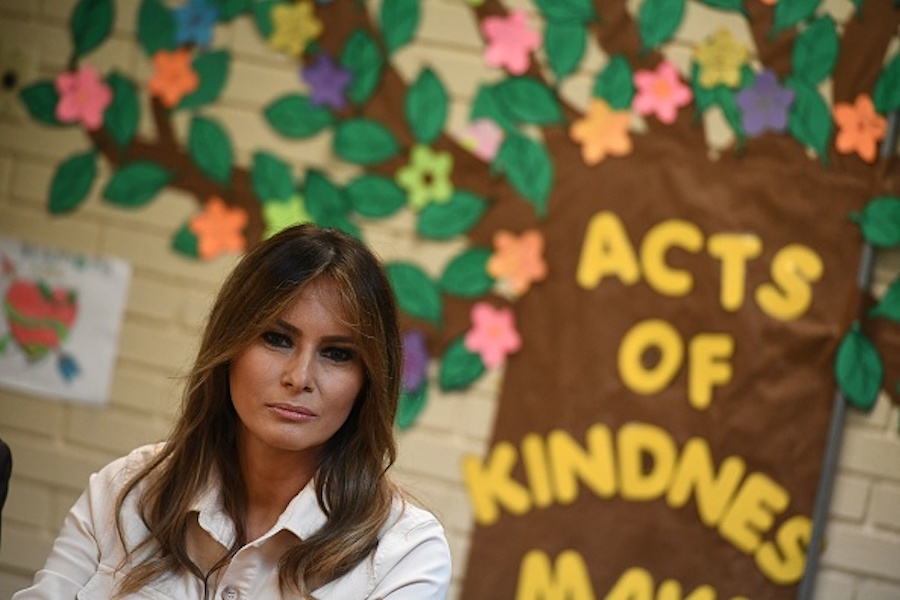 However, Jones is not alone in his choice to shield Melania from criticism. Earlier this month, there was a chorus of calls to "Leave Melania Trump alone" from various publications. This isn't new, but an obnoxious subgenre of political commentary dating back from 2016. People have defended her "right" to plagiarize former First Lady Michelle Obama and her choice to be far less public than her predecessors. Folks will also portray her as some kind of victim a la the "Free Melania" campaign of 2017.
True enough, I have defended Melania Trump on matters such as the publishing and subsequent shaming of nude photos she once took as a model. But when it comes to how she operates as First Lady, Melania is not a victim nor is she a hero. She is not any less inhumane than her husband. She is no less susceptible to exploiting racism to benefit her husband. End the fantasy that she is secretly some subversive force in the White House, as it is just as farcical as the same folklore being attached to Ivanka Trump.
Melania Trump isn't just married to a monster. She is a co-conspirator to his oppressive policies.
She went to Texas to do damage control, but she couldn't resist even the slightest display of her true feelings for the people she went to see.
For all her talk about speaking words of kindness, make note of the only words she lent a group of detained children as she left a shelter in Texas: "Good luck."
Michael Arceneaux is the author of the forthcoming book I Can't Date Jesus from Atria Books/Simon & Schuster. His work has appeared in the New York Times, the Washington Post, Rolling Stone, Essence, The Guardian, Mic, and more. Follow him on Twitter.